In This Ground by Beth Castrodale is a tale about love and friendship, music and art, a cemetery, mushrooms, knitting, music, and letting go of the ghosts that keep some anchored in the past. That may sound pretty random, but I'm sure it peaked your interest! It certainly peaked mine!
I'm so grateful to have been given the chance to participate in the TLC Book Tour to help promote this novel!
This tale was so wonderfully written and the cast was fantastic! I had so much fun reading it.
Let's dive in!
My Thoughts on In This Ground by Beth Castrodale
If you want to dive into a book and be totally wrapped up in the tangled web of a wonderful cast of characters, then this is a book for you!
I absolutely adored the characters in the novel. I was so interested to learn more about each of them, whether that was through the current timeline or flashbacks into the past. I also really loved how each of their story-lines seemed so separated and random at first, but then they slowly started to cross paths.
While reading, it felt like each chapter was bringing me closer to understanding the full scope of things. And that ending certainly didn't disappoint! When it comes to the pacing, I hate to say that it was "slow" because I feel that too many people see that as a complaint, and that's not the case here. The story moseyed along at a leisurely, but perfect speed for the story line.
I found the setting, the cemetery, so interesting! I used to love hanging out in the cemeteries in my hometown, enjoying the quiet and trying to find the oldest headstone. Of course, some of the cemeteries had ghost stories related to them, so that always added a bit of nervousness and excitement to the trips.
In this story, I really enjoyed learning more about the proper upkeep of a cemetery, as well as the funding. Those were two elements that I certainly hadn't thought about before! I also had never heard about green funerals before, but found the idea wonderfully interesting!
Shout out to Beth Castrodale for also including a lovely handwritten card when sending the book over! I appreciate things like this so much!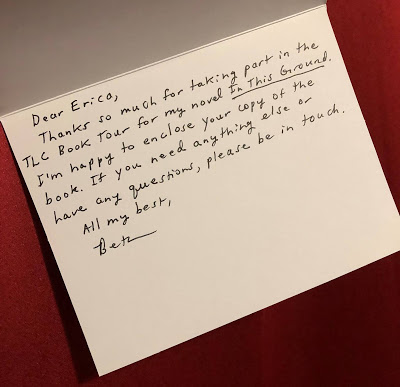 My Favorite Passage from In This Ground
Nature will have her way with all of us, son, no matter what tricks we try to pull. If you want someone to stay the same forever you better take a picture.
My Final Thoughts on In This Ground
I highly recommend checking this one out, especially if you're a fan of music! This was such an enjoyable read. I can't wait to read it again soon!
Connect with Beth Castrodale: Website | Twitter
Enter to win a copy of In This Ground!
Sorry friends, this one is US only. Enter between now and February 12th for you chance to win!
a Rafflecopter giveaway
Check out the other stops on the TLC Book Tour for In This Ground!
Grab a copy of In This Ground:
Books-A-Million | Barnes & Noble
Or snag a copy using my Amazon Affiliate link or inquire at your local indie:
Thanks for reading!
As a kid or teen, did you ever hang out in cemeteries? I sure did! Our group loved the quiet and the beauty of the headstones. I still love graveyards. Just wandering and looking at the old carvings is so interesting to me.