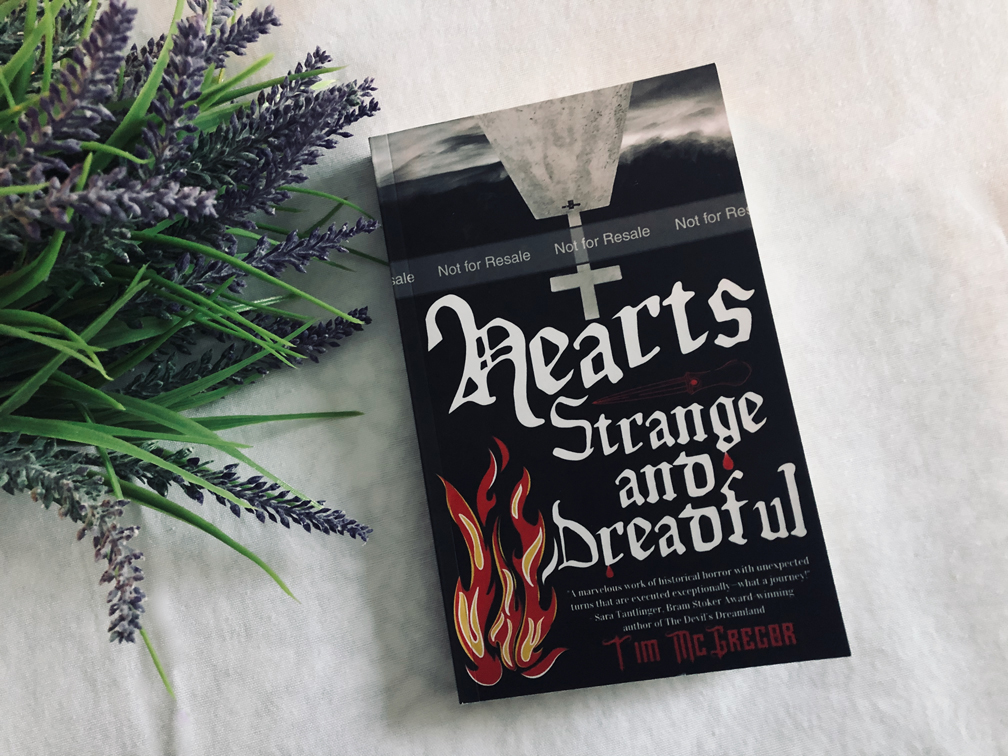 Hearts Strange and Dreadful by Tim McGregor is a historical horror that will break your heart over and over again, while you can't help but hope that the main character will find a bit of true happiness.
Content Warning: Death due to sudden illness.
Full disclosure: I was given a free copy of this book from the publisher in exchange for an honest review. This did not affect my rating in any way.
Let's dive in!
My Thoughts on Hearts Strange and Dreadful by Tim McGregor
This story centers around the main character, a teenaged girl named Hester.
Hester has been living with her Uncle's family since both of her parents died in a fire that left her face scarred with a burn. But rather than continuing her childhood, she was shot right into the role of an adult. She is tasked with helping around the house in any way that she can, even with tasks that are not appropriate for a teenaged girl…
Like when a man stumbles into town on a dying horse, it's unclear which one of them is in rougher shape. The horse is put down and Hester is told to stay with the man in their barn as she is tasked with both keeping an eye on him and trying to heal him.
When the man comes to, he tells her things that she can't believe and chalks it up to fever. But she should have heeded that mans warning…
Phew, the plot of this one is intense! I went into this one pretty dark, and I'm so glad that I did! I had no clue where the story was headed until it got there, so I won't spoil anything in my notes below as I keep this short and sweet. Even so, if you'd like to stop here before you read the book, please do!
First things first, I have to comment on how much I love Tim's writing style. This was my first read of his, but it definitely won't be my last. I loved how he maps out the plot and gets readers immersed into the world with the use of wonderful descriptions of the setting paired with great character development. Even with the characters that I didn't particularly like, they all felt like family to me.
I absolutely loved the slow burn of the beginning, which I mean in a good way of course! This slow burn really sets the scene and allows readers to become totally invested in the wellbeing of Hester and the safety of her family. So when the first person falls ill, my anxiety spiked like it was my real-world loved one that was sick. If you feel that way while reading as well, you'd best go grab a box of tissues. You're gonna need them.
I really connected with Hester when it came to her internal voice. That voice was so nasty to her. She was always so harsh and she was consistently talking down to herself. I just wanted to reach out and tell her that she's right, a lot of this doesn't seem fair and that she deserves better.
During the slow build, I kept forgetting that this was a horror read and kept wishing for something good to happen! But once the first element of terror shows it's claws, I couldn't put the book down!
My Favorite Passages from Hearts Strange and Dreadful
We all choose our own blinders.
Apart from the six children under her roof, and the adopted one beside her now, Mother Stokely had four children, silent and still in the peace of the churchyard.
I awoke early the next morning, dressed in the dark and crept downstairs to light the fires. I didn't mind being the first one up. I would make myself a cup of tea, or sometimes coffee if we had any, and would sit in peace to watch the sun come up over the southern meadow. The air was eerily still as a mist rose up in vapors as the sun's first rays touched the dewy earth. There was something divinely magical about this hour and I had it all to myself.
My Final Thoughts on Hearts Strange and Dreadful
I absolutely loved this book, even though I hated the amazingly perfect ending. 🙂 When you read this, you'll know exactly what I mean by that.
This story was eerie, it was heartbreaking, and it had plenty of things that made my blood boil… I already can't wait to read it again!
Go snag a copy of this book today!
---
Snag a copy through Bookshop to help support local indie bookshops:
I had the awesome opportunity to chat with Mr McGregor on the Dead Headspace Podcast! Give that episode a listen today:
If you haven't read any of Tim's work, he recommended beginning with Old Flames, Burn Hands. I will be snagging a copy of that with my next book order!
And don't forget to subscribe to Dead Headspace on your favorite podcast platform, or subscribe on YouTube!