Hark! the Herald Angels Scream was an interesting collection of holiday themed stories.
And that cover design… How awesome is the old school horror feel?! I'm obsessed with this cover.
My Thoughts on Hark! the Herald Angels Scream: An Anthology edited by Christopher Golden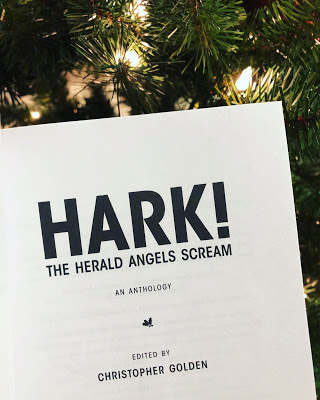 Many of the tales were wonderfully written! There are definitely some new-to-me authors that I discovered thanks to this book that I cannot wait to check out more work from soon!
Per usual with short story collections, I will break down my thoughts upon finishing each story along with my personal ratings.
Absinthe & Angels by Kelly Armstrong- 2/5
A bit gory and the thought of people coming up to a window of a cabin the characters were staying in was certainly creepy!
Christmas in Barcelona by Scott Smith- 3/5
Oh my goodness. This one had a bit of a slow start, but then the magic introduced was so interesting. And that ending… Oofh.
Fresh As The New Fallen Snow by Seanan Maguire- 4/5
That was such a cool tale! I loved the take on the people that watch and the message of having a home filled with love.
Love Me by Thomas E. Sniegoski- 3/5
Eek! How creepy! A little predictable, but still a fun tale.
Not Just For Christmas by Sarah Lotz- 4/5
Such a powerful message in this one! I equally love and am totally terrified by storied with tech going bad!
Tenets by Josh Malerman- 3/5
Argh! What happens next?!
Good Deeds by Jeff Strand- 5/5
Oh my goodness! I hate that song so much! This story was very extreme, but a very understandable take on a story behind the Christmas song…
It's a Wonderful Knife by Christopher Golden- 4/5
A very timely story considering the news this year… Gross and blood boiling but a great idea!
Mistletoe and Holly by James A. Moore- 2/5
The thought of losing a husband is so painful. This story was just too slow and dull for me. I think I would have liked it better if we learned more about the sisters girlfriend.
Snake's Tail by Sarah Langan- 2/5
Weird.
The Second Floor of the Christmas Hotel by Joe R. Lansdale- 5/5
Yes! Now this was a great tale! I love the creepy tone and the paranormal twist was so fun! I couldn't wait to see what happened next!
Farrow Street by Elizabeth Hand- 2/5
Slow to start with an odd ending.
Doctor Velocity – A Story is the Fire Zone by Johnathan Maberry 2/5
The poetic dialogue and all of the various metaphors in this one were very intriguing! The overall story for me was too slow and dull for me though.
Yankee Swap by John McIlveen- 5/5
Now that was quite a tale!! By far my favorite of the collection! I loved how dark and suspenseful this one was!
Honor Thy Mother by Angela Slatter-3/5
Phew! An interesting twist toward the end!
Home by Tim Lebbon- 3/5
Hmm. I liked the overall abandoned world tone, but I left this story just wanting to know more…
Hiking Through by Michael Koryta- 4/5
Oh no. The minute I read Geraldine Largay's name, I got chills and got so sad (learn more about Geraldine here). What an upsetting true story. However, I'm a sucker for any story about Maine and the woods. I really enjoyed this one.
The Hangman's Bride by Sarah Pinborough- 5/5
What a wonderful tale! I kind of wish this one was at the front of the book to kick-start the collection.
My Final Thoughts on Hark! the Herald Angels Scream: An Anthology
This was a fun read for the holidays that I would recommend! If you are looking for something with light horror, this would be a good pick.
---
Snag a copy through Bookshop to help support local indie bookshops: