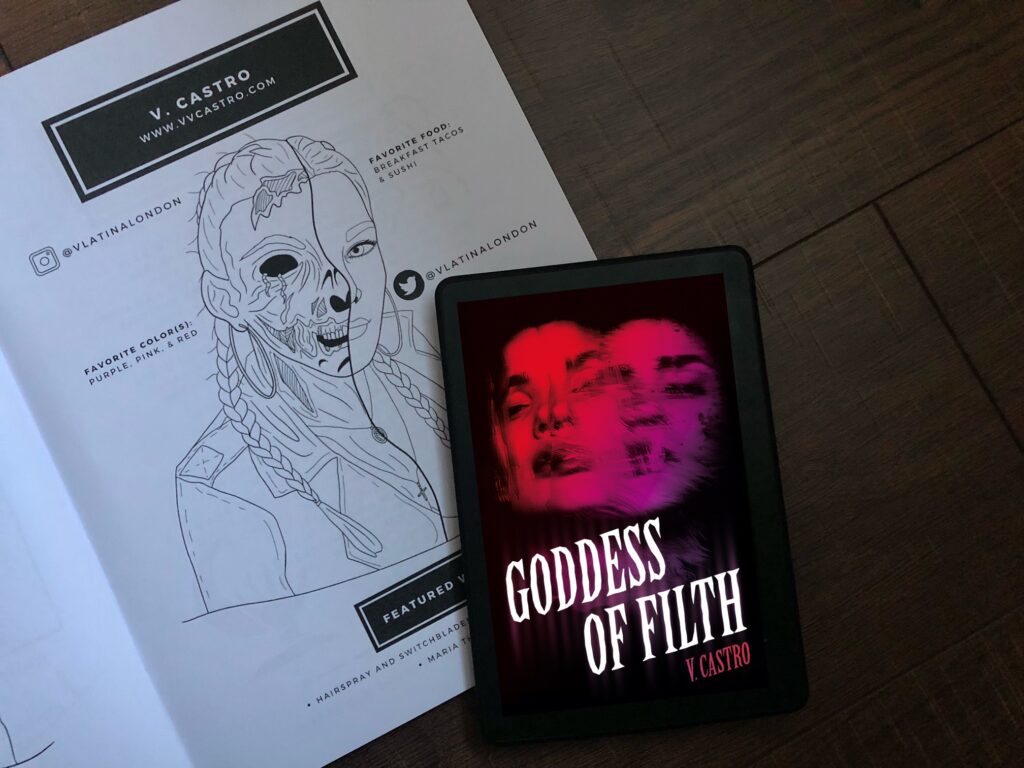 Goddess of Filth by V. Castro is a story about the love a group of friends and how tough their bond is when they are tested after one of them is possessed.
Content Warning: Human trafficking, self mutilation (very brief).
Let's dive in!
My Thoughts on Goddess of Filth by V. Castro
One summer, a group of friends tries to call upon ancient spirits. In attendance is Lourdes, Fernanda, Ana, Perla, and Pauline. They think that they're just doing this for fun and aren't taking it too seriously. After all, what's the worst that can happen?
Soon after beginning, something happens that startles them all. Quiet and serious Fernanda starts speaking a language they can't understand. Unable to snap her out of it, they turn the lights back on, and she falls to the ground and passed out cold.
Turns out that Fernanda, who has a strong internal desire to do great things, has walked away from the event with a spirit in her. This isn't just any spirit though, and while the spirit can take over when she likes, she actually works with Fernanda. This spirit has some stories to tell, and while she waits for the girls to figure out how to make that happen, she feasts on sin.
I really enjoyed that this tale centered around the love of friends. As a teenager, I always wished I had a group like this, minus the intrigue to do a séance of course! I'm too much of a chicken for that! I also really enjoyed that there was history included here with the Nahuatl language, which was from of the characters Aztec ancestors. I also like how much commentary there was on very important topics. V has such a beautiful way to touch upon things like this in a blunt and perfect format that still flows perfectly, but sinks its teeth into you so the words can stick around.
I empathized with the main character, Lourdes, in many ways and wished for the very best for her. I felt so protective of her immediately and wanted to reach through my kindle screen to give her a hug. Her inner monologue about not wanting to burden others, not asking for help, and forcing herself to swallowing down her anger really hit home for me.
The overall plot of the tale had me totally captivated. It was so easy to focus on the main storyline, but there were others flowing through in the darkness as well that wove in and out of the main focus, creating an even darker mood.
I love the way that V. Castro writes. Her words flow so well and the description of everything is absolutely beautiful, even when V is describing dark elements. Her use of dialogue was also wonderful. I loved the extra commentary the main character had with her inner thoughts when confronted with hateful characters.
And oh boy, speaking of those hateful characters. Some of that hatred was very difficult to read, but so impactful!
My Favorite Passages from Goddess of Filth
When your insides are egg white soft, you learn to develop an exterior tougher than fossilized dead things.
My innards felt like pop rocks crackling and jumping towards my mouth.
"I hope you are still writing." I nodded my head, noticing the three of them were looking straight at me. I still did not mention I had a closet full of notebooks. There was probably the same amount of ink on those pages as blood and tears in my body.
The church sat on the corner of the street like a chipped headstone. It appeared rotten, choked by time and its own tangled intolerance.
We were women, finding our way in a world that didn't give us a second glance.
My Final Thoughts on Goddess of Filth
When I first picked this one up, I was a bit nervous as I've heard there were sexual elements in it. I tend to avoid that as I feel a lot of the sex involved in things is just either to draw people in and doesn't actually add to the story, or it's added as shock value. That was not the case here. In this tale, the sexual elements were well done and added to the overall story.
I highly recommend picking this one up when you can read straight through because you won't want to stop. This is a story that left me walking away from it feeling unnerved, but also hopeful.
Wouldn't it be nice for something to really feast on the darkest of sins out there like we saw in this tale?!
You gotta pick this one up!
---
Snag a copy through Bookshop to help support local indie bookshops:
Thanks for reading!
Related reading: