Elevation by Stephen King, while this wasn't what I was expecting from a book categorized as horror, it was quite a trip!
But simply thinking about the plot afterward… now that was truly terrifying!
My Thoughts on Elevation by Stephen King
This story is about a man named Scott Carey who lives in a small town and works from home as a web developer. While his work life is going great, Scott has a very difficult personal life. No matter how much he eats, he has been steadily losing weight but his body hasn't been reflecting the weight change.
To make things even stranger, the things that he holds seem to lose their weight completely, according to the scale. This was proven when he stepped on a scale wearing a coat with the pockets filled with change, stripping, then going back on the scale to see that nothing had changed…
Scott is also struggling with two dogs who keep doing their business on his front lawn. When he confronts one of his neighbors with proof, he is thrown off by how cold she is. He soon learns that this neighbor is so icy because of the way that many townspeople are treating her and her wife, who recently moved to town to open a restaurant. Simply because the two women are married, many of the townspeople won't step foot in their restaurant.
After hearing a nasty comment at a local diner, Scott is determined to show the ladies that not all of the townspeople are close-minded, nasty people. So he decides to go eat at the restaurant, only to learn that they are at risk of going out of business because of how the townies treat them.
Even though Scott is losing weight daily, he is still determined to help. But can he help someone who doesn't want his help in the first place before his weight drops down to nothing?
Overall, I thought this was a decent novella that followed a nice storyline about overcoming prejudices and assumptions, and letting love win. There were many timely elements thrown in that we difficult to read, but important.
The characters were a little one-dimensional, but I thought that they were developed just enough for their roles. We had a rather stereotypical cast, but a solid cast nonetheless. We had the icy neighbor with a chip on her shoulder, the quiet and skittish neighbor that played peacekeeper, the doctor that just wanted to help, the doctor's wife that was a bit stubborn with her mindset at first but was easily swayed, and the main character that wants to do anything he can to help others!
None of the characters were all that likable. Even at the very end I didn't care much for any of them, but I did really enjoy seeing them grow while their relationships with one another developed.
At one point, the author mentioned a high school dance, a local band had renamed themselves "Pennywise and the Clowns." This made me chuckle! I love when authors do little crossovers like this to their other work.
I absolutely LOVE the cover of this book! It's so beautiful and I love the metallic and colorful holofoil that peeks out in the darkness of the night sky. Definitely one of my all time favorite covers! It was super difficult to get a photo of, but this kind of shows it: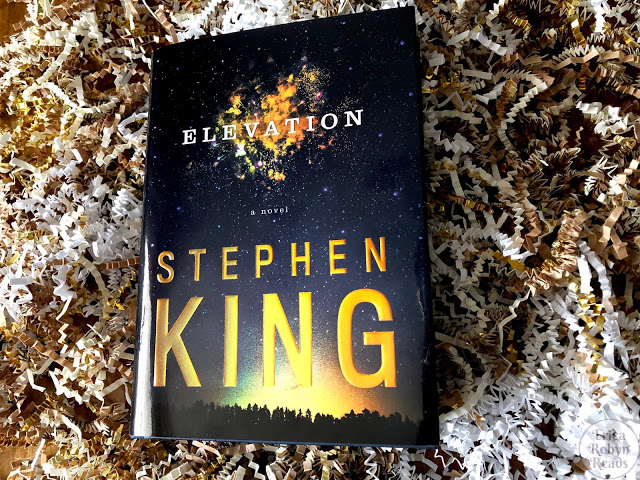 Beware, the negatives: 
This book seemed to need another round of edits… There were a number of bits that didn't flow very well, and some instances just seemed like autocorrect issues like: "I swan, men in middle age lose all their sense." Swan? Shouldn't that be swear? Yikes.
All of the fat-shaming comments were a bit tiring. Many of them made sense for the story, especially at the beginning. But after a certain point I couldn't help but roll my eyes. Like, we get it, the main character looks like he is overweight. Let's move on.
My Favorite Passages from Elevation
Not a wind, not even a high, exactly, but an elevation. A sense that you had gone beyond yourself and could go farther still. 
He rose slowly from the chair, the coverlet trailing below him like the hem of a long skirt, feeling absurdly like Mary Poppins, minus the umbrella. 
My Final Thoughts on Elevation
I'm glad I gave this one a read. I was hoping for more horror than sci-fi, but I still enjoyed the overall plot. Thinking about what happened to Scott is quite chilling!I would recommend giving this one a read. It would be a great book to read during a readathon because it was pretty quick and the storyline will totally suck you in while reading! And the ending is pretty lovely.
---
Snag a copy through Bookshop to help support local indie bookshops: