Don't Close Your Eyes by Holly Seddon was one of the books that I couldn't wait to get my hands on of the month of July (if you missed that post, click here!). When I received a copy in the mail from Goodreads, I was beyond thrilled!
I'm so happy to say that this book did not disappoint.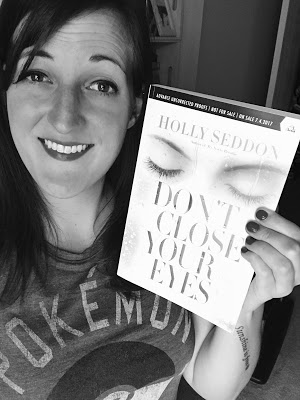 My Thoughts on Don't Close Your Eyes by Holly Seddon
I'm not usually one to enjoy books with unlikable main characters. And I'm especially not one to enjoy books with an element of cheating… But for some reason I just couldn't put this one down.
I will say that first half of this book really dragged… The storyline bounces between the perspectives of the two main characters in both the past and present. Through each flashback, we very slowly learn more about each of them and how their intense childhoods deeply affected them. At times, I found myself getting a little bored with the storyline simply because it was such a slow build.
However, once it picked up in the last quarter of the book, I could not put it down. I stayed up way too late reading just so I could see how everything turned out!
I don't want to give anything away, but I will say that there was one phrase specifically that was stated by a character that made my stomach totally drop. I can't remember the last time a book shocked me that much! So from that point on, I read frantically! I couldn't believe what was happening.
The writing style was very lovely. It was easy to read, even though some of the content itself was rough. Everything flowed very well, especially considering the choppy format. When books jump around between different timelines and perspectives, I tend to get a little lost, but I had no problem with this book.
I'm definitely looking forward to reading more from this author!
My Favorite Passages from Don't Close Your Eyes
SPOILERS in the quotes below
Sniping words had cut through the last little threads that had bound them. And those last little threads, it turned out, had been all that tied Robin to her childhood. She was free, she supposed, but also alone. Entirely alone.
She swung through these loops often. The logical part of her taking charge, then the broken part of her shining a wrecking ball through all that sense.
The more she tried to grasp control any way she could get it, the more slippery her life felt.
She'd thought her family was pretty perfect, once upon a time. Believed that her parents were good and her siblings were forever. But like all good fairy tales, the story was far, far darker than that.
That night, we fell asleep together and when I woke up I wondered if that's how we'd slept when we were in Mum's tummy, but I had to stop thinking about it because my heart felt like glass as it hit the floor.
For one brief moment I'd felt a tiny thread was connecting me to my sister, wriggling its way down the streets and around the parks, tying us together so that I could tug it and find her. But that string's been cut.
My Final Thoughts on Don't Close Your Eyes
What a great psychological suspense!
I would very highly recommend it to other readers that don't mind books with unlikable characters and very slow building storylines.
---
Snag a copy through Bookshop to help support local indie bookshops:
Thanks for reading!