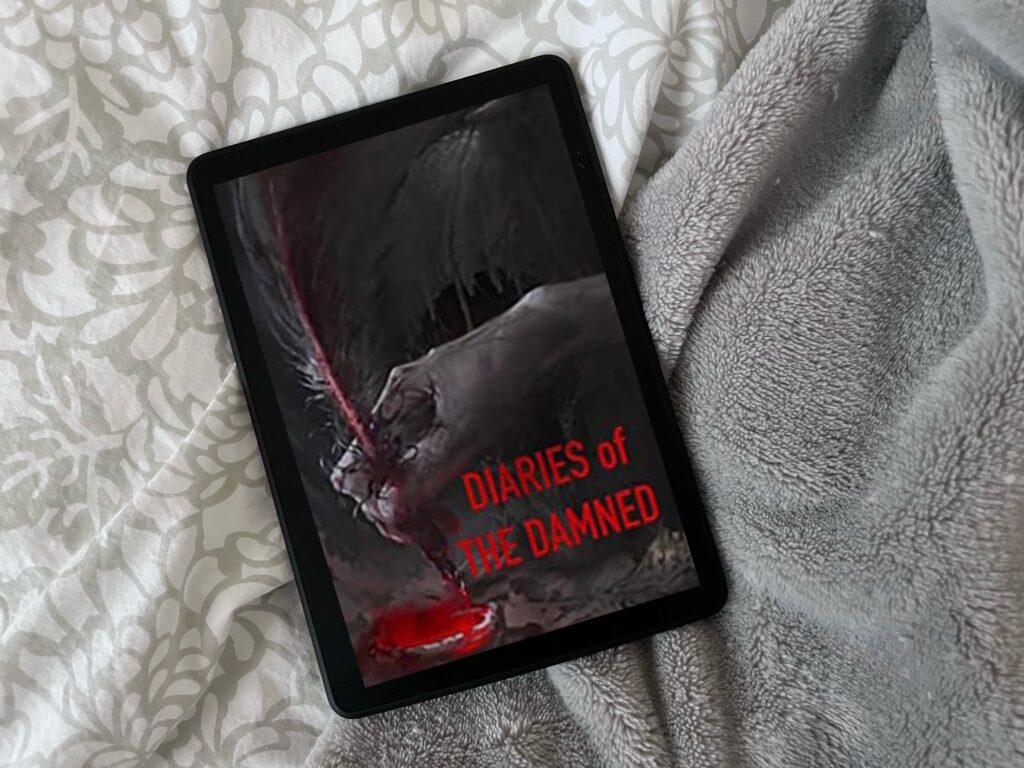 Diaries of the Damned by Ivan Radev is a collection of tales that span numerous dark fears. But as always, even in the darkness, there's a bit of light.
Full disclosure: I was given a free copy of this book from the author per request of an honest review. This did not affect my rating in any way.
Content Warnings
Child abuse, loss of a loved one, grief, dog death, and more.
Let's dive in!
My Thoughts on Diaries of the Damned by Ivan Radev
In the foreword, the author warns that this is a book of fears, and boy does he play on fears wonderfully! Each tale is presented to readers in the first person to really get readers in the characters shoes. Please use caution here when you dive in. The author does not shy away from the darkness.
My favorite stories from this collection included:
Night Drive
The Evil Inside
My Ex Is Coming To Kill Me, Help!
The Incident At The Toilet Paper Aisle
Here are my notes on each story:
Killer Beauty –
This story is set up as a selection of diary entries. In the installments, we learn that this man has a lot going on and that the stress is sucking the life out of him. He's mainly focused on the fear of losing his mother, but soon readers will learn that there is something more sinister going on here. This one has some killer body horror!
One Fear –
When a boy who was forced to overcome his fears by path of punishment via his harsh father grows up, he marries and refuses to pass on the torch of poor fatherhood. However, while he may have quickly overcome many fears over the years, he soon finds that deeply fears one main thing… This one was so unsettling!
Night Drive –
When a man hits the road with a heavy load in his truck, he goes through a rollercoaster ride of emotion while on a stretch of road. But then odd things begin to happen and he wishes he could just be home safe. This one was a heart-pumping one! I was so nervous with every turn the road took.
The Evil Inside –
When a trio goes camping in the north, something odd occurs within the first few hours. Two of them are willing to brush it off, but one of them seems spooked. When they all dream of an old woman, one man runs off, chasing down what he was being "called" to. These men thought they were going on a fun camping trip, but things are about to take a turn. Another super unsettling tale with quite the ending!
Sixteen to Nine –
After a man loses his wife to sickness, he fills his home with clocks and becomes obsessed with time. But then one day, one clock gets stuck at sixteen to nine. Soon after, the other clocks follow along and this man begins to count down the time in which he will see his wife again. This one was so sad!
The Transcript of Timothy Parker's Interrogation, Deep Dive (Unsaved) –
This troubling interrogation had the goal of finding out exactly what happened at Deep Dive before it spreads and kills others. The interviewee clearly had nothing to lose from the very start, so he brought a snarky and blunt edge to the interrogation, meanwhile, the interviewer wasn't holding any punches either. The premise of this one is terrifying! From the testing on humans to the results they were trying to replicate.
My Ex Is Coming To Kill Me, Help! –
Written as a letter to her ex, this woman tries to beg for forgiveness while she recaps what has been going on. BUT THAT ENDING!
Diery –
In this stream of consciousness from a very troubled person, we learn about the people in this small town that he is fixated on, especially the pretty neighbor. This poor person is totally delusional. Reading this spooked me!
The Prophet –
Set as journal entries that are each a month apart, we learn how enamored this man is with his wife. In the first entry, he has a nightmare that turns him a bit paranoid. He knows it was just a dream, but he can't help feel it was a warning… The course of this tale is so unsettling! There's a sense of dread, but toward the end, things get really complicated!
The Incident At The Toilet Paper Aisle –
When a kid that just wants some soda and toilet paper from the store witnesses something occur in the toilet paper aisle, he quickly jumps to action! A situation that must have only taken a minute or two spans these pages, breaking down the steps in wonderful detail. The tension here was thick!
Momento Mori –
When a man's dying wishes were that his daughter stay out of the attic, she is forced to go up there to sort out this things so her mother doesn't throw them all away. When going through the old film collection, she find a camera she can't remember her father ever using. Turns out, there's a reason why he never used it, and it's quite the dark secret!
My Favorite Passages from Diaries of the Damned
I shook as hard as a leaf on a stormy June day, failing to grasp what had just happened to me.
And most importantly, what was about to.
I'm fearful of the road; I always have been. It's because I respect it; I spent my whole life on it. Its rules, its unwritten rules are what we must all abide by. Doesn't matter if one is a professional driver or a single mother of two, if they just turned eighteen and got their license or have a whole family to feed, the road is what guides us and judges us. One wrong move and I've seen firsthand, it's truly unforgiving. We are all drawn to it, to the promise of adventure, of a new place, of a new dream. It's a drug, perhaps the first addiction man ever had.
I forfeited trying to match her pace after the second slice of cake, but she… there is a monster inside her, craving to devour all that is sweet in the world. Thinking about it, maybe that's why she is so incredibly delightful – after all – we are what we eat.
It seems fate won't just forgive the wrongdoings that I did. In its twisted ways, it punished me for holding on to life. It showed me that once you are a murderer, you will dream nightmares in the day and be cursed to have your eyes wide open in the night. There is no rest, no respite, no remission.
My Final Thoughts on Diaries of the Damned
Phew, this read will take readers on quite the journey! It was the perfect read for a dark and rainy spring weekend.
Prepare yourselves before diving into this book of fears!