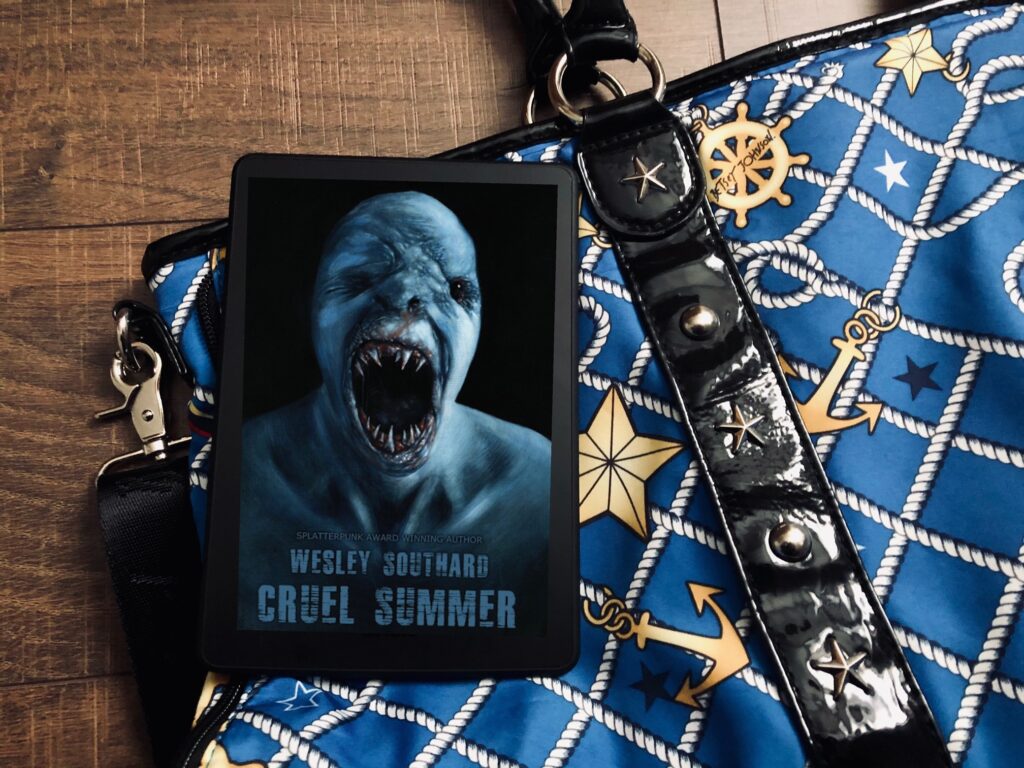 Cruel Summer by Wesley Southard is a terrifying tale about a family vacation that is troubled with elements of anger and possession that are more dangerous than the deep undercurrents running just off the shoreline.
Content Warning: domestic abuse, emotional abuse, verbal abuse.
Full disclosure: I was given a free copy of this book by the author in exchange for an honest review. This did not affect my rating in any way.
Let's dive in!
My Thoughts on Cruel Summer by Wesley Southard
When the story begins, our main character, Melissa, has decided that a family vacation to the shore is just what her, her boyfriend Hoyt, and her son Patrick need. The three are in the car traveling to their vacation condo and it's not going well. The relationship was already on the rocks and it's clearly a very toxic situation. Even so, Melissa is trying to give it one more shot.
And that's just the beginning! There is much more at play here than just the toxic relationship…
This story is insane! My goodness. I think my hatred for Hoyt could spark a fire! What a truly nasty man. Every scene he was in made my blood boil.
I loved Melissa and Patrick and just wanted to see them live their lives. They deserved a happy life away from the abuse, but they certainly weren't going to be walking away from this trip without some major scaring, both physically and emotionally.
My favorite character was Jordan. I loved his nerdiness and overall demeanor. His character brought a lovely lift to the story after the troubling situations we had just read.
There were so many sharp turns in this plot that I did not see coming! Even in the first few chapters, I didn't think things could get worse, but I was wrong every time.
Also, how amazing is that cover?! Lovely work by Alex McVey!
Go pick up this book! It launched today, January 10th, 2021!
My Favorite Passages from Cruel Summer
Melissa Braun snapped awake from a nap she didn't realize she was taking.
There was always something terrible simmering beneath the surface with Hoyt, and Melissa spent years thinking she could put out that fire and discover the good man somewhere in there. Turns out he didn't actually exist.
But while pity was what her brain wanted to feel, her heart told her to buck up and be strong. She intended to listen.
My Final Thoughts on Cruel Summer
I had so much fun reading this even though I wanted to scream during many scenes. Everything that happened was so darn unexpected! I can't remember the last time a book caught me this off guard with each and every event!
If you enjoy dark, family-focused tales, with a splash of Ancient Greek mythology, then this is a great pick for you!
---
Snag a copy through Bookshop to help support local indie bookshops:
Related Reading: