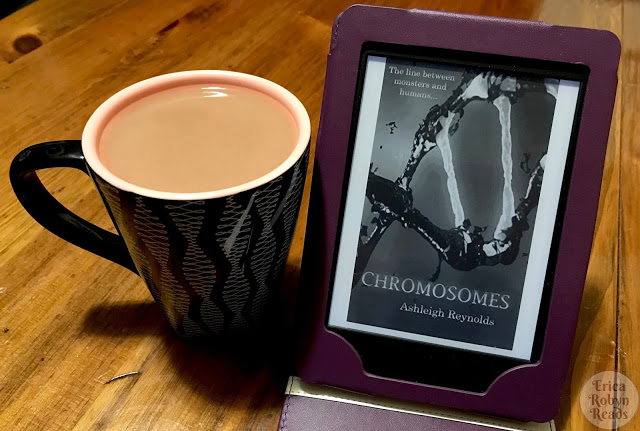 Chromosomes by Ashleigh Reynolds is an action-packed read that will make you feel incredibly uneasy while you can't help but continue to flip the pages to see what happens next.
Pick this one up on a day off! You won't be able to put it down!
Full disclosure: I was given a free copy of this book in exchange for an honest review. This did not affect my rating in any way. 
Let's dive in!
My Thoughts on Chromosomes by Ashleigh Reynolds
This is another read that I highly recommend you go into a bit blind. So I will keep this review pretty brief!
This book was so addicting; I really struggled to put it down. Once I started reading, I was totally hooked. I just had to know what would happen next! There were so many elements that were incredibly unsettling, but I couldn't help but be interested in the darkness. 
The two main characters were lovely. They were certainly characters that I found myself rooting for. I really enjoyed learning more about each of them while they also got to know one another. I found the main female character, Emma, absolutely hysterical! I loved her inner thoughts that were shared through the narration and how she poked fun at many things that would have been taken too seriously (or not seriously enough!) in other instances. 
One thing that I really loved was that the author commented on things that I had thought about just moments before. For example, Emma kept telling people to, "keep the change." When I found myself questioning her actions, the author explained it in the following paragraph!
I also really enjoyed that this story both started and ended with a bang! I was getting nervous toward the end, hoping that we weren't going to be left hanging. But then, the author ended it perfectly.
My Favorite Passages from Chromosomes
He was the thing of nightmares mashed in with the thing my pesky hormones dreamed about. Handsome, sure. Would murder me in a second without a wavering thought, definitely.
We passed down the corridor in a flash with me barely able to make out the numbers on the doors. I took a hesitant glance down and saw that my feet weren't even touching the ground. He had me tucked under his arm, as if I weighed nothing. As if I was a football, an he was making a last-ditch effort at a touchdown. 
My Final Thoughts on Chromosomes
While reading Chromosomes, I couldn't help but think about the Beauty and the Beast TV Series. So of course I would love to see this book turned into a movie or show! If you're a fan of shows in that genre with some darkness added in, I highly recommend this book!