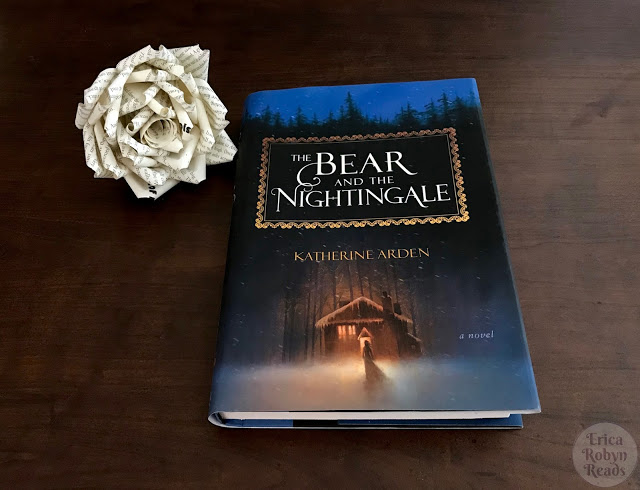 The Bear and the Nightingale by Katherine Arden was such a fun and beautifully written tale filled to the brim with magic, family, monsters, and darkness.
When I saw this was one of our book club options, I voted for it immediately. I had heard such great things about it! So when it won the overall vote for March, I went out and bought a copy immediately.
This book did not disappoint. In fact, I loved it so much that the minute I finished reading it, I jumped on my computer and ordered the second book and preordered the third! I cannot wait to read them both to see what happens next!
My Thoughts on The Bear and the Nightingale (Winternight Trilogy #1) by Katherine Arden
Right away I have to admit that it took me awhile to get really invested in the story. But phew… once I hit page 85, I was hooked! Up until that point, it seemed like there was just too much going on; there were so many characters that had two, three, or four names who were all doing different things as the years passed… So I found it a bit difficult to keep up. But after page 85, I struggled to put the book down!
There was a great focus on Russian mythology, a topic that I don't know very well. But this definitely got me interested! I cannot wait to read more in this area. The tales that were told within this novel were so interesting and dark! And we all know I'm a sucker for the darker tales!
The main focuses were on the story of Vasilisa the Beautiful, which I had only heard of once before, and Father Frost (Morocco), which I hadn't heard about at all. In this novel, we begin with a character named Dunya telling the tale of Father Frost to the family. This story really sets the stage wonderfully! If the book hadn't started with a tale with magical elements, I don't think I would have gotten on board with the plot as quickly. But as it was, when the magical things began to be more prominent, I was so excited to learn more!
I loved the focus on family and loyalty. But of course, with most fantasy stories, it was also bittersweet… but no spoilers here!
I really enjoyed the main character, Vasya. Right from her childhood, I found myself most interested in her storyline so I was thrilled to see that the focus really shifts to her later on. She was wonderfully unique in her world; tomboyish, outspoken, unyielding, brave, and a bit wild. Of course that didn't sit well with the local townsfolk, so there was a bit of unease there as well.
And the book design… I mean, look at that cover!! The script on the spine under the dust jacket was also lovely!
There are so many other things that I would love to discuss here, but I don't want to spoil the magic!
My Favorite Passages from The Bear and the Nightingale
When the light struck her black hair it did not gleam bronze as Marina's had, but dark red, like garnets caught in the silky strands.
Fall came in a burst of glory that quickly faded to gray.
My Final Thoughts on The Bear and the Nightingale
If you're a fan of tales that take an old tale and give it an awesome spin, I highly recommend this one!   Even though I was a bit lost at the beginning, I'm so very excited to re-read it. I'm sure the first 84 pages will make much more sense to me now that I have all the characters down!
Of course because this story is a play on Vasilisa the Beautiful, I couldn't help but think about Vassa in the Night by Sarah Porter. Both stories are incredibly interesting, and VERY different, so I would highly recommend checking them both out!
---
Snag a copy through Bookshop to help support local indie bookshops: