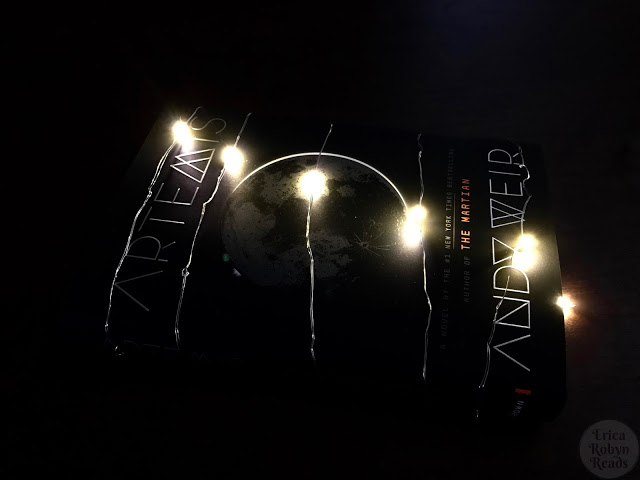 Artemis by Andy Weir was absolutely everything I was hoping it would be; it was humorous, action-packed, and a super fun read! I can't wait to see what Andy Weir writes next!
My Thoughts on Artemis by Andy Weir
Oh my gosh, Jazz Bashara was a hoot! I can see why her character may be a little much for some readers tastes, but I loved her! She was so sarcastic and had absolutely no filter. I really enjoyed all the situations that she got herself into, whether they were good or bad. I especially enjoyed her banter with Martin Svoboda, who was my favorite character in the book. 
That being said, I thought all of the characters were so wonderful! The main team were all very interesting to me, and all very different! Then the bad characters were also wonderful in their own evil ways. Overall, I felt that each of the characters were developed just the right amount for their roles. 
The writing was awesome. I thought that the plot was wonderfully paced and everything flowed really well. As I was reading, I couldn't wait to see what happened next! 
And for the fans of The Martian, I'm sure you all got a chuckle out of what this line made you think of: "Only an idiot relies on duct tape to maintain a pressure seal…"
Beware, the negative:
My only complaint is that a few things were repeated, but thankfully it wasn't enough to affect my rating. 
For example, the reader is told twice in a short span that the buggy was designed to fit someone in a EVA suit so they had room. 
There was also a case of repetition in another situation, but I thought it was handled perfectly; remind the reader about the technicality aspect, but add some humor to those that didn't need the reminder: "Between the two hulls, there's a bunch of crushed rock (you knew that)." 
My Favorite Passages from Artemis
The city shined in the sunlight like a bunch of metallic boobs. What? I'm not a poet. They look like boobs.
Black tea is the only hot drink worth having.
Five a.m. was a largely theoretical concept to me. I knew it existed, but I rarely observed it. 
Difficult times, my friend, but there is a path. There must be. We will find it.
I channeled my inner "dumbass in a horror movie" and walked back to the door. I opened it a crack and peeked through.
"Mr. Bashara?" Svoboda popped his head between us. "Hi, we haven't met. I'm Martin Svoboda. I'm a friend of Jazz's."
Dad shook his hand. "One of those 'friends with benefits'?"
"Ugh." I rolled my eyes. "I don't do that, Dad. This may shock you, but I haven't had sex with anyone in this while room."
"Well, it's a small room."
"Burn!" Svoboda said.
Only an idiot relies on duct tape to maintain a pressure seal…
My Final Thoughts on Artemis
I would definitely recommend this book to fans of action-packed space stories with a very sarcastic main character! I'm so antsy to see the movie; I think this will make a great one!
---
Snag a copy through Bookshop to help support local indie bookshops: