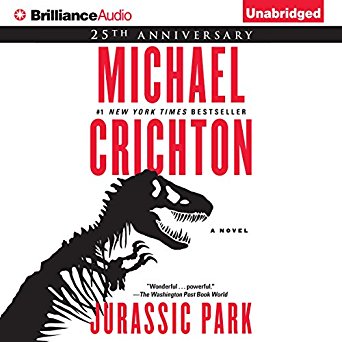 I have read this book a few times, but this was the first time I listened to it on audio. I'm SO glad I snagged this one! It was so much fun to listen to.
My Thoughts on Jurassic Park by Michael Crichton, Narrated by Scott Brick 
Jurassic Park is one of my all time favorite books. Right from the start, it is so action-packed and exciting! Each reread is just as fun as my first read through. I can't believe it took me so long to pick up an audio version.
Scott Brick did a wonderful job narrating this novel! His tone and enthusiasm was perfect. I loved how he picked up the pace when the situation called for it. The voices the narrator used for each character was just different enough to keep them all straight, but they weren't overly done.
This is definitely an audiobook that I will listen to time and time again. It's so much fun!
Thanks for reading!
Have you listened to the audio version of any of your favorite books?