Oh boy what a month March is going to be. There are some amazing releases coming up! I lucked out and got to read two of these books early, two more are next up, and one I have preordered.
Please note: This post contains affiliate links for bookshop.org. By clicking the links and ordering the books from bookshop.org, you can help support a local indie bookshop! By using these links, I will get a small commission.
Let's dive in!
March 2022 Book Releases
SLASH-HER: A Women of Horror Anthology edited by Janine Pipe & Jill Girardi
Expected Publication Date: This one launched early! It's on sale now!
Publisher: Kandisha Press
Genre: Horror
Synopsis:
Kandisha Press proudly presents SLASH-HER. 21 women from across the world come together to explore the slasher sub-genre. Some embrace the tropes, some rip them to shreds. These powerful tales are provocative, contemporary and need to be told. Featuring own voices, you will discover the pen is mightier than the machete.
Serial killers, revenge, lust and even the supernatural are just some of the elements in SLASH-HER.
These stories are strong. They are bloody and they pack a punch.
Are you ready?
Note: I had the chance to read this one early and I really enjoyed it it! This is definitely one you'll want to pick up! Feel free to take a peek at my review here if you'd like to see my thoughts.
---
Gallant by V. E. Schwab
Expected Publication Date: Mar 1st, 2022
Publisher: Greenwillow Books
Genre: Horror/Fantasy
Synopsis:
Olivia Prior has grown up in Merilance School for girls, and all she has of her past is her mother's journal—which seems to unravel into madness. Then, a letter invites Olivia to come home—to Gallant. Yet when Olivia arrives, no one is expecting her. But Olivia is not about to leave the first place that feels like home, it doesn't matter if her cousin Matthew is hostile or if she sees half-formed ghouls haunting the hallways.
Olivia knows that Gallant is hiding secrets, and she is determined to uncover them. When she crosses a ruined wall at just the right moment, Olivia finds herself in a place that is Gallant—but not. The manor is crumbling, the ghouls are solid, and a mysterious figure rules over all. Now Olivia sees what has unraveled generations of her family, and where her father may have come from.
Olivia has always wanted to belong somewhere, but will she take her place as a Prior, protecting our world against the Master of the House? Or will she take her place beside him?
---
Sundial by Catriona Ward
Expected Publication Date: March 1st, 2022
Publisher: Tor Nightfire
Genre: Horror
Synopsis:
You can't escape what's in your blood…
All Rob wanted was a normal life. She almost got it, too: a husband, two kids, a nice house in the suburbs. But Rob fears for her oldest daughter, Callie, who collects tiny bones and whispers to imaginary friends. Rob sees a darkness in Callie, one that reminds her too much of the family she left behind.
She decides to take Callie back to her childhood home, to Sundial, deep in the Mojave Desert. And there she will have to make a terrible choice.
Callie is worried about her mother. Rob has begun to look at her strangely, and speaks of past secrets. And Callie fears that only one of them will leave Sundial alive…
The mother and daughter embark on a dark, desert journey to the past in the hopes of redeeming their future.
---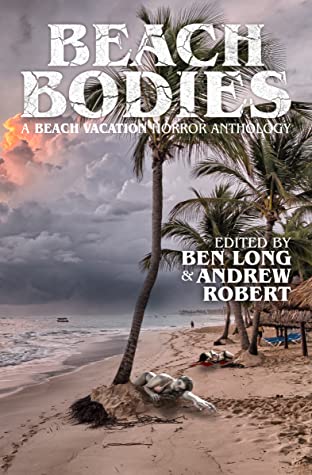 Beach Bodies: A Beach Vacation Horror Anthology edited by Ben Long & Andrew Robert
Expected Publication Date: March 4th, 2022
Publisher: DarkLit Press
Genre: Horror
Synopsis:
A family's vacation is cut short when the dead begin to rise. A strange hotel will do anything to keep its guests from leaving. A series of murders lead a local reporter on the hunt for a werewolf. A distraught man discovers he's on a vacation from hell. Friends on vacation come face to face with an ancient curse.
Beach vacations are meant for relaxing and unwinding away from the drudgery of normal life. The sparkling sun, shimmering on cresting waves. A light breeze as you sit with toes in the sand, a cold drink in one hand. Utopia on an island. But what happens when that paradise suddenly becomes a purgatory of pain?
What will you do when the beaches fill with bodies and the waters run red with blood? When creatures crawl the coastline and the jungle teems with terror. How will you survive when a tropical respite becomes an arena of peril?
Beach Bodies features sixteen terrifying tales of beach vacation horror. For even more scares, check out the companion anthology Slice of Paradise out now from DarkLit Press.
This anthology includes stories by Scott Cole, Jay Alexander, Kelly Brocklehurst, Damien Casey, Leeroy Cross James, Max Christmas, Ronaldo Katwaroo, Nicholas A. Battaglia, Fox Claret Hill, Nat Whiston, Chelsea Paravel, Wendy Dalrymple, John Durgin, Jena Brown, Danielle Ramaekers, and Julie Sevens.
---
Lamella by Max Halper
Expected Publication Date: March 7th, 2022
Publisher: Bad Dream Entertainment
Genre: Horror
Synopsis:
Mel Lane assumed his life was on the track it was supposed to be: a career with upward movement, a home, a long-term relationship. That is, until he comes home one day to a girlfriend he knows and a child he doesn't. Stranger still, no one else seems disturbed by the child's presence—or by its bizarre, inhuman features. Mel is a reasonable man, and he knows there is a reasonable explanation—but once the veil of reality begins to ripple, the world around him becomes something he simply doesn't understand. Worse yet, it's becoming very clear that he may never have understood it quite as well as he thought he did.
He knows there are answers, written somewhere on the walls or in the airwaves, but finding them will mean confronting truths about himself and the people around him as he spirals down a rabbit hole of identity and place that will threaten to upend the delicate balance of his life.
---
The Book of Cold Cases by Simone St. James
Expected Publication Date: March 15th, 2022
Publisher: Berkley
Genre: Thriller
Synopsis:
In 1977, Claire Lake, Oregon, was shaken by the Lady Killer Murders: Two men, seemingly randomly, were murdered with the same gun, with strange notes left behind. Beth Greer was the perfect suspect–a rich, eccentric twenty-three-year-old woman, seen fleeing one of the crimes. But she was acquitted, and she retreated to the isolation of her mansion.
Oregon, 2017. Shea Collins is a receptionist, but by night, she runs a true crime website, the Book of Cold Cases–a passion fueled by the attempted abduction she escaped as a child. When she meets Beth by chance, Shea asks her for an interview. To Shea's surprise, Beth says yes.
They meet regularly at Beth's mansion, though Shea is never comfortable there. Items move when she's not looking, and she could swear she's seen a girl outside the window. The allure of learning the truth about the case from the smart, charming Beth is too much to resist, but even as they grow closer, Shea senses something isn't right. Is she making friends with a manipulative murderer, or are there other dangers lurking in the darkness of the Greer house?
---
All the White Spaces by Ally Wilkes
Expected Publication Date: March 22nd, 2022
Publisher: Atria/Emily Bestler Books
Genre: Horror
Synopsis:
In the wake of the First World War, Jonathan Morgan stows away on an Antarctic expedition, determined to find his rightful place in the world of men. Aboard the expeditionary ship of his hero, the world-famous explorer James "Australis" Randall, Jonathan may live as his true self—and true gender—and have the adventures he has always been denied. But not all is smooth sailing: the war casts its long shadow over them all, and grief, guilt, and mistrust skulk among the explorers.
When disaster strikes in Antarctica's frozen Weddell Sea, the men must take to the land and overwinter somewhere which immediately seems both eerie and wrong; a place not marked on any of their part-drawn maps of the vast white continent. Now completely isolated, Randall's expedition has no ability to contact the outside world. And no one is coming to rescue them.
In the freezing darkness of the Polar night, where the aurora creeps across the sky, something terrible has been waiting to lure them out into its deadly landscape…
As the harsh Antarctic winter descends, this supernatural force will prey on their deepest desires and deepest fears to pick them off one by one. It is up to Jonathan to overcome his own ghosts before he and the expedition are utterly destroyed.
---
Shadow Flicker by Gregory Bastinanelli
Expected Publication Date: March 22nd, 2022
Publisher: Flame Tree Press
Genre: Horror
Synopsis:
Investigator Oscar Basaran travels to Kidney Island off the coast of Maine to document the negative effects of shadow flicker from wind turbines on residents living near the windmills, but is unprepared for what he encounters from the islanders.
Oscar's research shows that sleep deprivation, light deficiency and ringing headaches brought on by the noise and constant strobe-like effect of the sun filtered through the spinning blades of the turbines brings on hallucinatory episodes for the closest neighbors to the machines.
Melody Larson's elderly father nearly chokes to death after stuffing dandelion heads into his mouth. The Granberrys' pregnant cow repeatedly runs headlong into a fence post. Tatum Gallagher mourns her young son who vanished more than a year ago, presumed swept out to sea by a wave while fishing on the rocky shore, but several people claim to see him appear only in the glimmer of the shadow flicker.
Aerosource, the energy corporation that owns the turbines, hired Oscar to investigate the neighbors' claims, but the insurance agent shows no allegiance to the conglomerate, especially after learning a previous employee sent to the island a year before has disappeared without a trace.
When Oscar meets former island school science teacher Norris Squires, fired for teaching his students about the harmful effects of shadow flicker, he learns a theory regarding Aerosource that sounds too preposterous to believe.
While it seems the shadow flicker effect has driven some of the island's animals crazy, is it possible it's caused an even worse mental breakdown among the human inhabitants? Or is something more nefarious at work on the island?
As Oscar's investigation deepens, he discovers the turbines create an unexpected phenomena kept secret by a select group of people on Kidney Island who have made a scientific breakthrough and attempt to harness its dark power.
Note: I have this one preordered and I can't wait to get my copy in the mail!
---
Below by Laurel Hightower
Expected Publication Date: March 29th, 2022
Publisher: Ghoulish Books
Genre: Horror
Synopsis:
HOW FAR WOULD YOU GO TO HELP A STRANGER?
While driving through the mountains of West Virginia during a late-night snowstorm, a recently divorced woman experiences bizarre electrical problems, leaving her with little choice but to place her trust with a charismatic truck driver. But when an unexplainable creature with haunting red eyes gets between them, she is forced to make one of the toughest decisions of her life. Will she abandon the stranger who kept her safe—or will she climb down below, where reality has shapeshifted into a living nightmare?
Note: I had the chance to read this one early and I absolutely loved it! I can't wait for my paperback preorder to arrive soon as well. Check out my review here.
---
Thanks for reading!
What books are you looking forward to in March?