Phew, thank goodness the holiday season is right around the corner… there are so many great books coming out soon!
Please note: This post contains affiliate links for bookshop.org. By clicking the links and ordering the books, you can help support a local indie bookshop! By using this link, I will get a small commission. There is one link (the first link) for Amazon.com.
Let's dive in!
Memory Hunters by Tony Moyle
Expected Publication Date: November 10th, 2020
Publisher: Limbo Publishing
Genre: YA Dystopian
Synopsis:
Every Memory Cloud holds secrets, but not every secret is held in the Memory Cloud.
Christie Tucci's Ascension Day went better than she'd expected. The letter revealed that her life partner will be Jake Montana. Now all she has to do is find him…
The 'Proclamation of Distrust' has changed. It used to warn subscribers about the danger of the 'East' but now it's focus is more specific. Every day the Circuit forces it into subscribers' Memory Clouds to warn them about Jake and there's one person's attention they want most. His sister's.
A sailing boat, helmed by a single crewman, passes through the firewall that splits 'East' and 'West'. The sun's intense heat scorches the boy's flesh and he scratches at a distinctive scar on his face. Like most of his life, he can no longer remember where it came from. All he knows is the value of the knowledge inside him. It's the secret to destroying the Circuit but it can only be unlocked in the East. A place where nothing is as it seems.
Memory Hunters is the second book in the thrilling Circuit series. If you like inventive science fiction that's a little to close to how we live today you'll love Tony Moyle's page turning, fast paced dystopian thriller.
---
Human Resources by Robin Triggs
Expected publication date: November 10th, 2020
Publisher: Flame Tree Press
Genre: Suspense
Synopsis: The sequel to Night Shift, praised by Crime Review and Cemetery Dance.
Antarctica. A city on the edge of nowhere.
Anders Nordvelt is chief of security in this frozen land, so, when a prominent member of a dissident group is murdered, it is his job to find the killer. Unsatisfied with the obvious explanation, Anders keeps pushing until the body of a colleague turns up in his apartment.
Could Anders really be the killer? Why does he half-remember wielding the knife? And why are the whispers of a fabled Human Resources black-ops team getting ever louder?
As for Anders, he's about to enter a deadly game of cat-and-mouse with a ruthless killer.
---
Secret Santa by Andrew Shaffer
Expected Publication Date: November 10th, 2020
Publisher: Quirk Books
Genre: Horror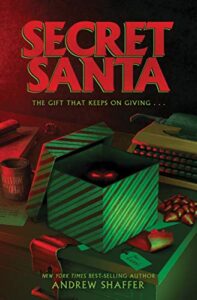 Synopsis: After half a decade editing some of the biggest names in horror, Lussi Meyer joins prestigious Blackwood-Patterson to kickstart their new horror imprint. Her new co-workers seem less than thrilled. Ever since the illustrious Xavier Blackwood died and his party-boy son took over, things have been changing around the office.
When Lussi receives a creepy gnome doll as part of the company's annual holiday gift exchange, it verifies what she's long suspected: her co-workers think she's a joke. No one there takes her seriously, even if she's the one whose books are keeping the company afloat.
What happens after the doll's arrival is no joke. With no explanation, Lussi's co-workers begin to drop like flies. A heart attack here; a food poisoning there. One of her authors and closest friends, the fabulous but underrated Fabien Nightingale, sees the tell-tale signs of supernatural forces at play, stemming from the gnome sitting quietly on Lussi's shelf. The only question is…does Lussi want to stop it from working its magic?
Note: I heard about this one for the first time thanks to the Books In The Freezer Podcast. I cannot wait to dive in!
---
This Is Not a Ghost Story by Andrea Portes
Expected Publication Date: November 10th, 2020
Publisher: HarperTeen
Genre: YA Horror
Synopsis: Daffodil Franklin has plans for a quiet summer before her freshman year at college, and luckily, she's found the job that can give her just that: housesitting a mansionfor a wealthy couple.
But as the summer progresses and shadows lengthen, Daffodil comes to realize the house is more than it appears. The spacious home seems to close in on her, and as she takes the long road into town, she feels eyes on her the entire way, and something tugging her back.
What Daffodil doesn't yet realize is that her job comes with a steep price. The house has a long-ago grudge it needs to settle . . . and Daffodil is the key to settling it.
---
Ready Player Two by Ernest Cline
Expected Publication Date: November 24th, 2020
Publisher: Ballantine Books
Genre: LitRPG
Synopsis:
Ready Player Two, novelist Ernest Cline's sequel to his Ready Player One, will be published by Penguin Random House imprint Ballantine Books on Nov. 24, 2020 in North America.
---
Thirteen Storeys by Jonathan Sims
Expected Publication Date: November 26th, 2020
Publisher: HarperTeen
Genre: Horror
Synopsis: A dinner party is held in the penthouse of a multimillion-pound development. All the guests are strangers – even to their host, the billionaire owner of the building.

None of them know why they were selected to receive his invitation. Besides a postcode, they share only one thing in common – they've all experienced an unsettling occurrence within the building's walls.

By the end of the night, their host is dead, and none of the guests will say what happened.

His death remains one of the biggest unsolved mysteries – until now.
Thanks for reading!
What are you looking forward to reading in November?