Oh my goodness, February may be a short month, but it's another great month for new releases! I've already gotten my hands on two of the books I'm excited for, and one more is in the mail on it's way to me!
Let's dive in!
February 2021 Book Releases
The Survivors by Jane Harper
Expected Publication Date: February 2, 2021
Publisher: Flatiron Books
Genre: Mystery
Synopsis: Kieran Elliott's life changed forever on the day a reckless mistake led to devastating consequences.

The guilt that still haunts him resurfaces during a visit with his young family to the small coastal community he once called home.

Kieran's parents are struggling in a town where fortunes are forged by the sea. Between them all is his absent brother, Finn.

When a body is discovered on the beach, long-held secrets threaten to emerge. A sunken wreck, a missing girl, and questions that have never washed away…
Note: I've actually already read this one, feel free to check out my review here!
---
What Big Teeth by Rose Szabo
Expected Publication Date: February 2, 2021
Publisher: FSG
Genre: YA Horror
Synopsis: Eleanor Zarrin has been estranged from her wild family for years. When she flees boarding school after a horrifying incident, she goes to the only place she thinks is safe: the home she left behind. But when she gets there, she struggles to fit in with her monstrous relatives, who prowl the woods around the family estate and read fortunes in the guts of birds.
Eleanor finds herself desperately trying to hold the family together — in order to save them all, Eleanor must learn to embrace her family of monsters and tame the darkness inside her.
Exquisitely terrifying, beautiful, and strange, this fierce gothic fantasy will sink its teeth into you and never let go.
---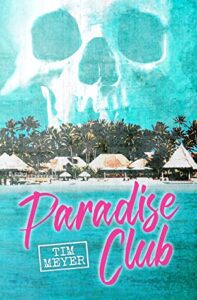 Paradise Club by Tim Meyer
Expected Publication Date: February 5, 2021
Publisher: Grindhouse Press
Genre: Horror
Synopsis: Welcome to Paradise. Sandy beaches. Crystalline waters. An all-inclusive resort with virtually everything you can think of. A true idyllic paradise.
An event is taking place at Paradise Club that wasn't on the brochure: a dangerous game pitting the hotel's guests against a gang of bloodthirsty maniacs. Elliot Harper – family man and FBI agent – is about to find out how fast heaven can become hell when every single vacationer is forced to become a ruthless killer in order to survive. A team of killers have been unleashed, and they won't stop until every single guest is dead.
Let the mayhem begin…
Note: As soon as I see Tim Meyer announce a book, I have to order it right away! Luckily I saw the spoiler that this was going to be in the January NightWorms package, so I had to preorder that one immediately!
---
Severed by Joshua Marsella
Expected Publication Date: February 17, 2021
Publisher: Independently Published
Genre: Horror
Synopsis: In this prequel to SCRATCHES, the members of Third Squad are sent on a recon mission to Northern Vietnam in 1967. Their squad leader, Sgt. George Hanscott, has to make the difficult decision to disobey his unit's direct orders putting his squad's lives at risk, or help a local fishing village end the terror that's been plaguing them for over a century. Will his decision backfire or will his squad of US Marine's be able to destroy the evil entity they don't quite understand?
Will we find out how George became such a heinous monster? Do we really want to know?
---
Thanks for reading!
What books are you looking forward to in February?