Ah November, the time when I post this list hoping my friends and family may use it for Christmas shopping! Ha! Not going to lie, I already sent the Goosebumps link to a family member to give her a present idea for me.
This month I also have a book that I'm looking forward to getting a physical copy of that I AM IN! I still can't believe it…
Please note: This post contains affiliate links for bookshop.org and Amazon. By clicking the links and ordering the books, you can help support a local indie bookshop! By using this link, I will get a small commission.
Let's dive in!
November 2021 Book Releases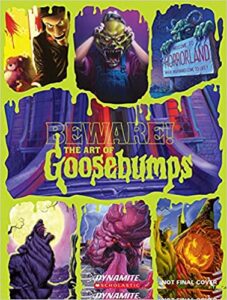 Beware: The Art of Goosebumps by Sarah Rodriguez (Author), Tim Jacobus (Artist)
Expected Publication Date: November 30th, 2021
Publisher: Dynamite Entertainment
Genre: Nonfiction
Synopsis:
Featuring tons of fun facts about the series alongside a walkthrough of all books and covers in the Goosebumps collections, this art book is a must-have for old and new fans alike!
In the summer of 1992, Scholastic tasked two terrifyingly talented artists with creating the cover paintings for the books that would premiere the Goosebumps series. At that time, four books in the line were being market-tested by the publisher to see how young readers would react to R.L. Stine's particular brand of humor-tinged horror. One element that was sure to catch the attention of little eyes everywhere was striking cover art, and, boy, did they find it!
---
Blackberry Blood edited by Aiden Merchant
Expected Publication Date: November 24th, 2021
Publisher: Snow-Capped Press
Genre: Horror
Synopsis:
Blackberry Blood is the debut anthology from LGBTQA+ run publisher Snow-Capped Press, edited by Aiden Merchant (author of Sickness is in Season and Horrific Holidays) and Julia Lewis (Curiosity Bought the Book). It features a dark selection of short stories and poems from writers you need to know in the genre of emotional turmoil and horror. The cover art was done by the brilliant Gemma Amor (author of White Pines and Dear Laura), and the Foreword was written by Mother Horror herself, Sadie Hartmann.
★Includes interviews w/ Erica Robyn, Andrew Post, Daniel Barnett, and Jayson Robert Ducharme
Note: EEEEEP! I still can't believe I'm part of this one! Someone pinch me!
I've also given this one an early read to help with the content warning notes and let me tell you, this is one you will want on your TBR. It's a killer collection of tales!
---
Hunger For Death by Joshua Marsella
Expected Publication Date: November 30th, 2021
Genre: Horror
Synopsis:
A mother is willing to sacrifice it all to save her unborn child…
A pair of fishermen reel in a catch they'll soon regret..
A mysterious puzzle holds an ancient secret…
…and ten more wicked tales of the macabre from the remarkably disturbed mind of Joshua Marsella.
---
Thanks for reading!
What books are you looking forward to in November?