In a recent Book Blogger Hop, the topic was Literary Halloween Costumes and I mentioned that we had an awesome plan for our team at work.
Well, I can finally share what that idea was!! Which, as you can see, was a Harry Potter theme!
On our team we had:
A Hufflepuff student
Nymphadora Tonks
Luna Lovegood
Ginny Weasley
Bellatrix Lestrange
The Golden Snitch
Hermione Granger
Albus Dumbledore
Harry Potter
A Patronus
An Owl
Ron Weasley
Professor Mcgonagall
Severus Snape
Draco Malfoy
We were going to have a Professor Quirrell/He Who Must Not Be Named. But unfortunately he was traveling.

The hallway leading to our room looked so fun! We had lots of plastic stuck to the wall that looked like a rock wall. There was signage and torches. Which all lead up to Platform 9 3/4. When you stepped through the wall, you entered the great hall.
Our conference room that we turned into the great hall looked awesome! The team blacked out the windows and we had things all over the place; floating candles, flickering table candles, owls, howlers, house banners, and more! We also turned the electric fireplace on and had Harry Potter playing on the TV.
Check out some more photos from the event below:
How awesome are these signs?! My coworker Ashley created them!
The owner of the company and our recently retired president. <3
HOW AMAZING IS THIS CAR?! My coworker Giselle made it the night before the party. I'm so bummed I didn't get a photo of myself in it or a shot of our Ron and Harry driving in it.
I was a Hufflepuff student! No one specific. I just really wanted one of these amazing robes! Let me tell you, it was worth every penny!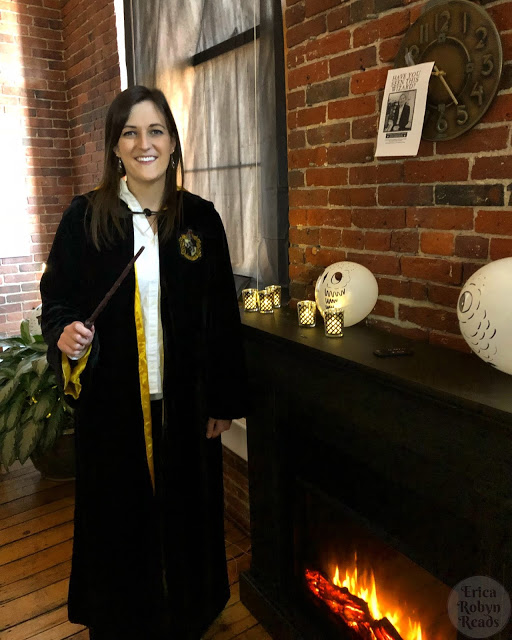 It was so much fun to see how into the holiday this office gets! I already cannot wait for next year!
Thanks for checking out the photos!
Are you planning on dressing up for Halloween at work this year?