Noose by Brennan LaFaro is a gritty, gore-filled splatter western that is packed with action from the very first page. But something special that Brennan brings to the table with this genre, is that this book also has a lot of heart and emotion, and his main character isn't afraid to show it.
Content warnings: gun violence, gore, and suicide. At the front of this book, there's a lovely note that refers readers to the back of the book for more detail. 
Let's dive in!
My Thoughts on Noose by Brennan LaFaro
When I started writing my beta reading notes for Brennan, I kicked the email off with something that would be fitting here as well:
AH! I'M OBSESSED!
This story begins with a sentence that perfectly outlines the main characters' intent for the rest of the story: "The first time I ever met George "Noose" Holcomb, I knew I'd end up killing him someday."
In the very first chapter, readers will be hit right in the face with the action and the splatter elements of this tale. But of course, there's also an element that will break your heart as it sets up Rory Daggett's quest for revenge.
It's clear from this first chapter of Noose that Brennan is ready to spill more blood on these pages, and let me tell you, he certainly does not hold back.
The rest of the story is just as action-packed and bloody as the start! But along the main character's travels, he meets a wonderful character that becomes his little sidekick. I won't say too much there, as you all need to meet this one yourselves!
One additional note on characterization; I really enjoy how Brennan introduces readers to his characters. When it's appropriate, he goes in depth when the character first appears to set them up in the readers minds. With other characters, he just adds in a perfectly worded sentence or two that does the trick! This passage below specifically stood out to me in this story. It's short, sweet and to the point, but it also flows perfectly in the events of the story itself and gives readers everything they need to know about Mr. Lynch:
"Another round, gentleman?" If Emmett Lynch could smile, either with his face or his words, I'd never been privy to it. One would think being surrounded by booze and gaiety seven evenings a week, the joy would rub off, but he played the role of miserable son of a bitch well. Never did let the bottom of your cup show, though.
Speaking of, let's dive into some of my favorite passages.
My Favorite Passages from Noose
Per usual with Brennan's work, I had a TON of sections highlighted to talk about how much I loved certain elements or passages when we were first discussing the early copy. I had to cut back on which passages I added in the section below so I didn't give too much away!
Still, if you'd like to go in more dark, please skip this section!
The first time I ever met George "Noose" Holcomb, I knew that someday I'd kill him.
Understanding what came next, I covered my ears and ducked as Noose unleashed demonic fury throughout the cabin. Shrapnel struck, whether parts of the seats blown apart or chunks of human tissue, I couldn't be sure. Even when I chanced it being safe to open my eyes, blood and bone littered the aisles so generously, I knew the gore must have covered me like a blanket.
I knelt to pick up a stone, hoping my knees wouldn't crack like cannons and betray my position. Showing their loyalty in silence, they held my weight as I chucked the stone.
Madness enveloped those eyes, as if they lit upon something the brain wasn't prepared for. The pupils fired back and forth as if studying words on a page. Frantically, like he might be able to save his sanity if he could only read fast enough.
"Another round, gentlemen?" If Emmett Lynch could smile, either with his face or his words, I'd never been privy to it. One would think being surrounded by booze and gaiety seven evenings a week, the joy would rub off, but he played the role of miserable son of a bitch well. Never did let the bottom of your cup show, though.
I tried pulling myself to my feet, but my body replied with a hearty "fuck you" and stayed flat on the ground, the stubborn cuss. As a compromise, it allowed me to turn my head toward what remained of the ranch. Trickles of smoke climbed to the sky, a dull reflection of the horror I'd encountered last night. The black smoke had dyed everything it touched that sooty stygian black. The color of death.
Assuming it might be salvageable, I tucked it into the back of my pants, only realizing after I'd done it that the barrel might have retained enough heat to solder my asscrack shut.
A deafening bang and a display of light that put the single match to shame filled the room. It provided a momentary glimpse of Edward's head bursting, releasing the riddles no one has ever heard, nor ever would.
I collapsed on one of the couches, smearing gore and grime all over it; a childhood revenge achieved that I couldn't give a damn less about.
Sending a prayer to Poseidon and hoping he'd hear it this far inland, I gave the pump a go. A couple scary seconds passed where the faucet relinquished nothing but dust and stale air, but soon water flowed, the nectar of the gods. I swear to sweet Jesus, that clear liquid had never tasted as good as it did right then. I drank until my stomach swelled.
The place was all well and good with daylight streaming in the windows and fighting back the shadows, but night would tell a different tale.
A creaking groan escaped the first step. Fuck. That one used to be trustworthy.
Goddamn, I'd almost forgotten about the kid, following me around quiet as a mouse fart. I turned to check on her and sure enough, Pip waited dutifully behind me, making sensual eye contact with every edible item in sight.
Time stopped as I took in the long black dress. At least black was the first color that sprang to mind, but really it was the lack of color, absorbing the essence of anything with the temerity to come in contact with it.
The left eye was the problem. Technically it was intact, but it hung a couple inches lower than usual, resting upon his scruffy cheek and staring distantly through me. The eyeball held on by a single thread of . . . whatever the fuck keeps eyeballs from falling out of a person's head on a good day.
The street begged for a healthy dose of rain to wash away the blood, bone, brains, and hate spilled that day, but this was Buzzard's Edge. Even in the best part of town, the sand would drink the blood and unloved creatures would dispose of the rest when darkness fell. Except for the hate. That would stay indefinitely.
My Final Thoughts on Noose
The pacing of this tale will carry you right along as you cringe with the latest blood-splatter, smile with each win Rory gets, and hunch over from the gut-punches that some situations will leave you with.
If you enjoy splatter westerns, this book needs to be on your TBR list.
---
Snag a copy through Bookshop to help support local indie bookshops:
Snag a copy using my Amazon Affiliate link or inquire at your local indie:
Thanks for reading!
And shout out to Brennan again for trusting me with an early copy! I had an absolute blast reading this the first time around, extra fun the second time, and I already can't wait to dive in again!
And this was too kind. I'm so honored to be included in Brennan's Afterword:
"Huge thanks to Erica Robyn and Patrick R. McDonough, two of the world's best humans, for reading an early version and providing invaluable notes."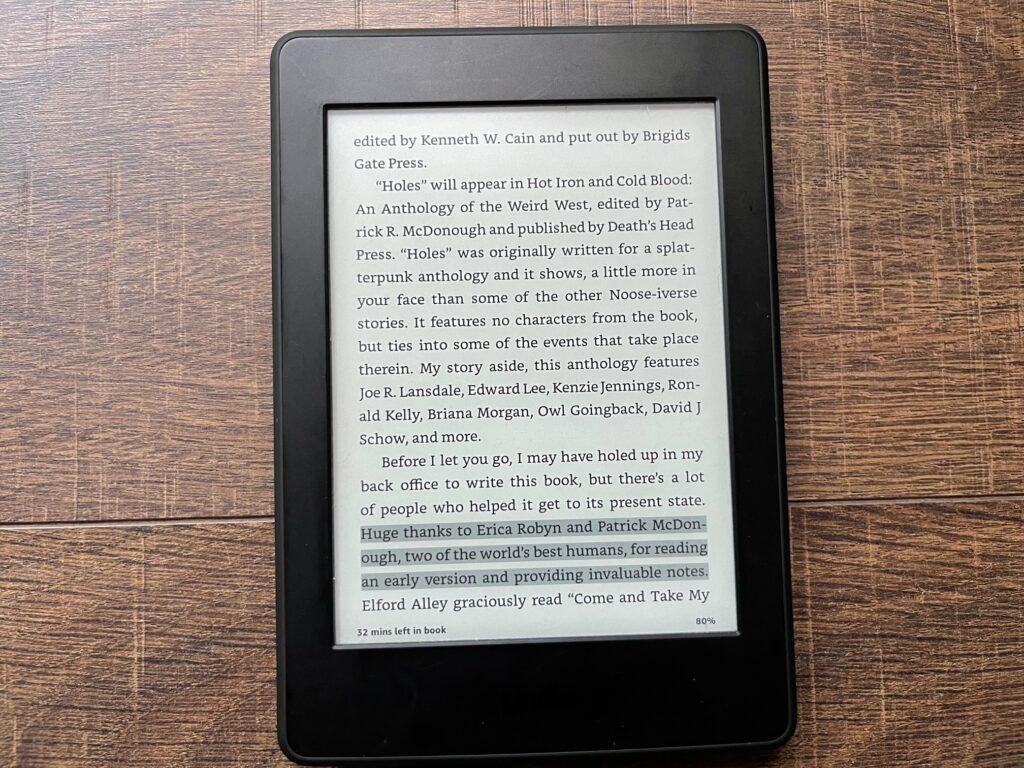 ---
Related Reading: