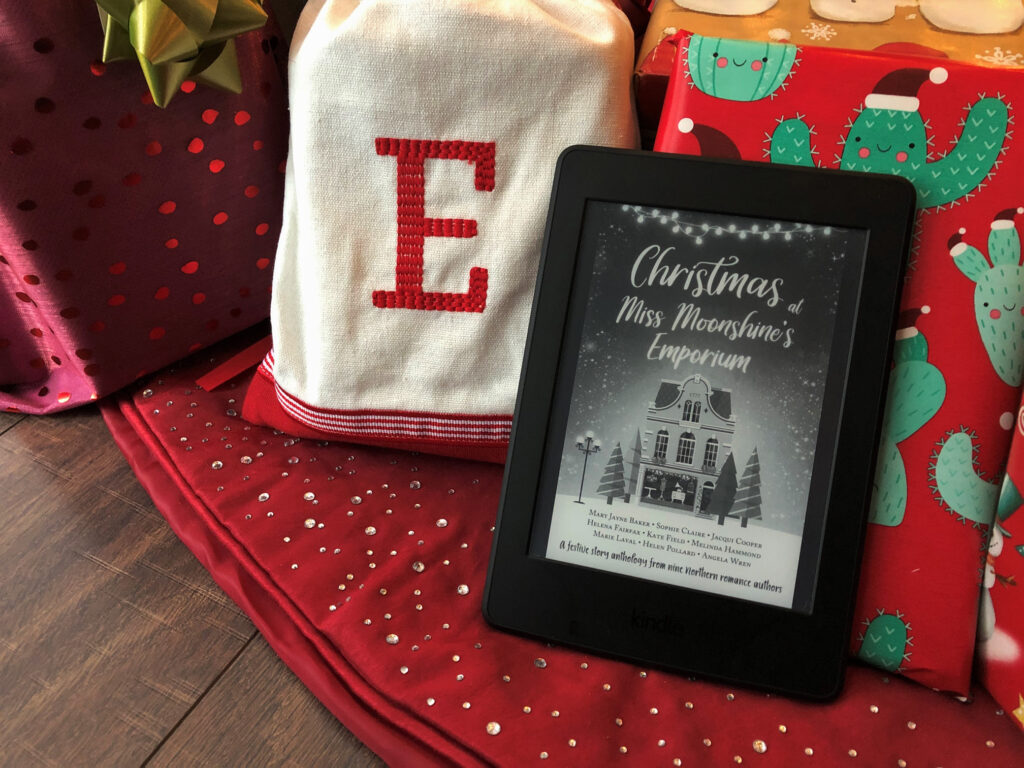 Christmas at Miss Moonshine's Emporium is a wonderfully heartwarming collection of cute romances. I had so much fun reading this!
If you're looking for a great short story collection to curl up with while drinking some hot cocoa, this is a great one to snag!
Let's dive in!
My Thoughts on Christmas at Miss Moonshine's Emporium
I really enjoyed that while each of these stories were so different in tone and style, that they were all linked together by Miss Moonshine and her lovely shop.
Each of the authors really painted a wonderful picture of the town and the people that lived there. This is a place that I would absolutely love to visit!
As this was a collection of stories, I will add my quick notes about each below.
The Ghost in the Machine by Mary Jayne Baker – 5 Stars
This was so cute! I loved all the bookish references. Definitely a tale that moves very quickly from strangers to love interests, but so adorable. I really related to the main character when she discussed how busy she is and how she's always working, though I'm definitely not as bad as she is. The reminder to take time off was good for me to read.
The Boy Next Door by Helen Pollard – 3 Stars
I really didn't care for the journal entries from the teenager. The other bits were enjoyable though. I loved Jan and Bob!
My True Love Gave To Me by Sophie Claire – 5 Stars
So cute! I was a bit nervous about how this story was going to turn out, but it went the way I had been hoping it would. This tale was such a classic trip that I both love and hate as a little bit of communication could clear things up. But it's also a terrifying situation to find yourself in.
How to Save Christmas by Kate Field – 5 Stars
SO cute! This woman coming to stay for the holiday was certainly a Christmas miracle for this little town! I loved how much she was able to help the people she encountered. With what she had going on, she very easily could have been grumpy and withdrawn. I'm so glad she stayed positive and put herself out there. I would love to see a follow up story to this one. I also want her to meet Jan from a previous story.
A Raven's Gift by Angela Wren – 4 Stars
A sad but exciting one! I loved how things started to fall into place. If only she had been a bit more patient at the start!
Make My Wish Come True by Helena Fairfax – 4 Stars
Such a cute tale. I loved how much this boy wanted to impress his crush. I also loved how dedicated he was to helping his dad on the farm. What a great kid!
Christmas Magic by Marie Laval – 5 Stars
I loved this one so much! I love tales of reuniting after a long time and in this one there were two of these situations! This tale was so adorable. I loved the play in Christmas miracles and luck by shaking the snow globe.
The Timepiece by Melinda Hammond – 3 Stars
A bit sad, but overall cute tale of two widows trying for move forward from their grief.
Miss Moonshine's Advent Calendar by Jacqui Cooper – 5 Stars
This one was my favorite of the bunch! I loved the characters so much and the story line was wonderful. Per usual with stories like this, there was a bit of tension but I'm so glad that it passed really quickly.
My Final Thoughts on Christmas at Miss Moonshine's Emporium
I had so much fun reading this collection! I really enjoyed seeing how many people Miss Moonshine was able to help. The organization of the tales was the only thing that I didn't totally love as the timeline was slightly confusing… However, I think I may have been trying too hard to fit them all together.
If you enjoy cute tales of light romance, then this is one you gotta pick up!
---
Snag a copy through Bookshop to help support local indie bookshops:
---
Thanks for reading!
What types of books do you like to pick up around the holidays?