Act One, Scene One-Murder by A.H. Richardson is such a fun, old fashioned murder mystery!
This was the second book featuring Berry Beresford, Sir Victor Hazlitt, and Stan Burgess that I have read, Murder in Little Shendon was the first. So when I was asked if I would like to review another of A.H. Richardson's books, I agreed immediately!
I'm so sad that it took me this long to get to it, but I'm so happy that I've finally read it! This one certainly didn't disappoint!
Full disclosure: I was given a free copy of this book from the author in exchange for an honest review. This did not affect my rating in any way. 
---
My Thoughts on Act One, Scene One-Murder by A.H. Richardson
This one took me awhile to get through only because I picked it up at a very busy time in my life. It's one that I could have otherwise breezed right though! The story was so interesting right from the start, and it only got more and more peculiar as the three gentlemen dug deeper into the situation.
The writing style is so lovely! I'm just a sucker for the classic styled mysteries! This book was so humorous and the banter between the characters is so well-written. The descriptions of the people and surrounding areas were wonderful. And oh my gosh… the description of food made my mouth water!
I loved all of the little hints that were dropped throughout. I thought I had a pretty good guess at who the murderer was, but because of the wonderful writing from this author, I was also second guessing myself! Only once the three gentlemen laid it all out, did all the little hints and such finally fall into place.
This book certainly had a bit of a Clue-vibe going on, and of course I loved every second of it! I couldn't wait to learn more at the same time that the three gentlemen did to see if I could figure the mystery out myself!
The only slight negative I have to point out was that there were many formatting issues, such has missing quotation marks, extra punctuation like ";;" and other small things. But luckily it didn't take away from the overall reading experience.
My Favorite Passages from Act One, Scene One-Murder
Tantalizing aromas – fresh garlic, baking cheese and crusty baguettes, and wine – permeated the atmosphere, along with the hum of contented chatter from patrons.
"Life has a way of handing out just desserts; of that there is no doubt."- Kieron
Not to worry. A glass of champagne will doubtless serve to remedy the situation, as, indeed it is a remedy for most things, I have discovered.
"Yes, of course I'm all right. Just suffering from a bit of wounded dignity. Ouch!"-Berry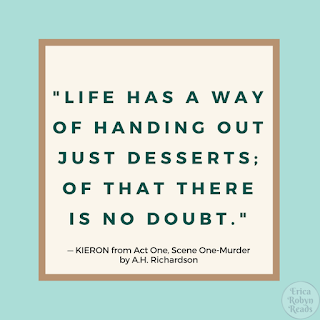 My Final Thoughts on Act One, Scene One-Murder
Bravo, A.H. Richardson! I cannot wait to read more of your work!
I would highly recommend this one to any mystery fan that doesn't mind a bit of drama and gossip!
---
Snag a copy using my Amazon Affiliate link or inquire at your local indie:
Thanks for reading!
What is your favorite old fashioned mystery?