September was finally a tiny bit slower. I needed a slower month after how wild August was! I totally used my pregnancy as a bit of an excuse as I was just far too tired to go anywhere. Even so, we still had plenty going on as out of the 30 days, we had 18 days with doctor appointments, errands or tasks to tackle, or other plans. The one bummer was that I missed out on a few book events I really wanted to attend. But for once, I'm finally listening to my body and not pushing it, so I'm quite pleased with myself!
We're SO excited that the calendar has flipped over to October! FINALLY, our due date month! Our little guy will be here soon.
Speaking of, we recently received three absolutely amazing gifts from our bookish family for baby Wade! First, a gift card from Kevin of Kangas Kahn Publishing, next a wonderful selection of books from my team at work (that they bought from Gibson's to shop local!), and then another awesome selection of books from the amazing people at Gibson's Bookstore in Concord, NH! We're so grateful for all the love!
A few other highlights from September included our wedding anniversary (which we celebrated with takeout and a movie!) and the always amazing virtual event, Buzz Book Expo! I'm still smiling over how much fun I had watching along and participating in the chat during the event. I even won a giveaway from Thunderstorm Books! This month I also launched my Running List of 2024 Horror Book Releases! I can't believe how many books I already have on this list!
Let's dive into the rest of my recap!
My September 2023 Recap –
Reading:
Audiobook Listening:
Other Posts:
Monthly bookish-haul: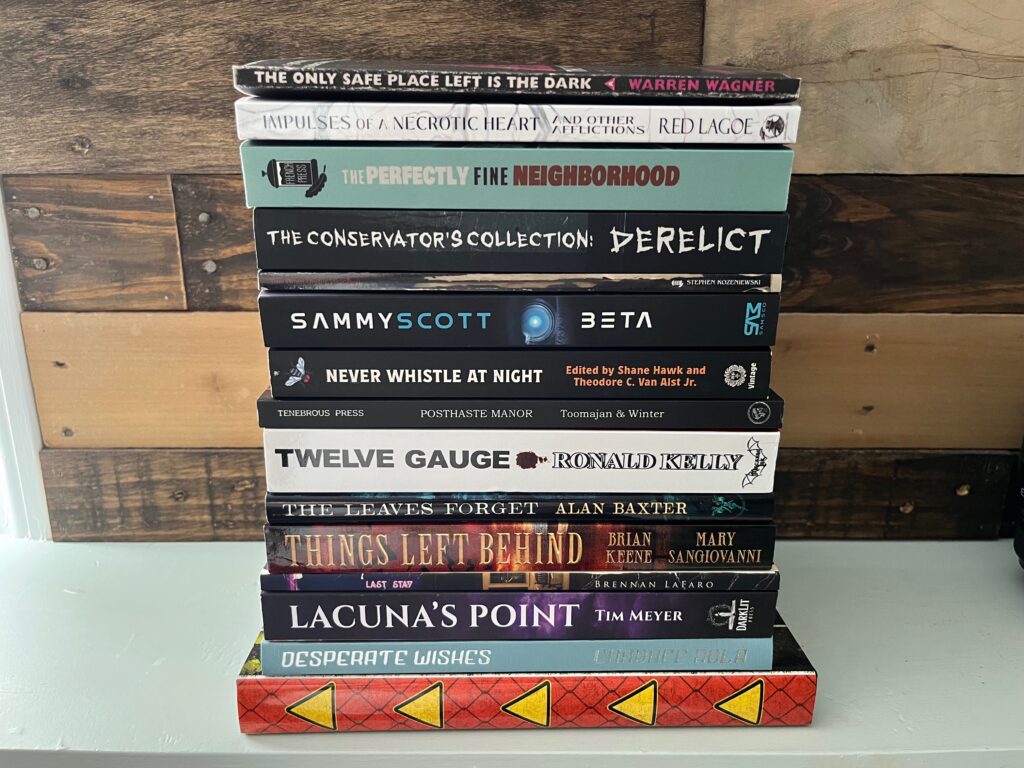 SHEESH! Just when I thought I had really pulled back on my book haul … gifts, giveaways, and a few purchases proved otherwise. This month I acquired the following:
The Only Safe Place is the Dark by Warren Wagner (signed!)
Impulses of a Necrotic Heart and Other Afflictions by Red Lagoe
The Perfectly Fine Neighborhood edited by Kayleigh Dobbs, Stephen Kozeniewski, and Wile E. Young
The Conservator's Collection: Derelict by John Durgin, Jay Bower, and John Lynch
Beta: A Technological Nightmare by Sammy Scott
Never Whistle at Night: An Indigenous Dark Fiction Anthology edited by Shane Hawk and Theodore C. Van Alst Jr.
Posthaste Manor by Jolie Toomajan and Carson Winter
Twelve Gauge by Ronald Kelly (signed!)
The Leaves Forget by Alan Baxter
Things Left Behind by Brian Keene and Mary Sangiovanni (signed!)
Last Stay by Brennan LaFaro (signed!)
Lacuna's Point by Tim Meyer (signed!)
Desperate Wishes by Candace Nola (signed!)
Hazards Exist That Are Not Marked by Kristin Dearborn (signed!)
My favorite book photos this month:
Thanks for reading!