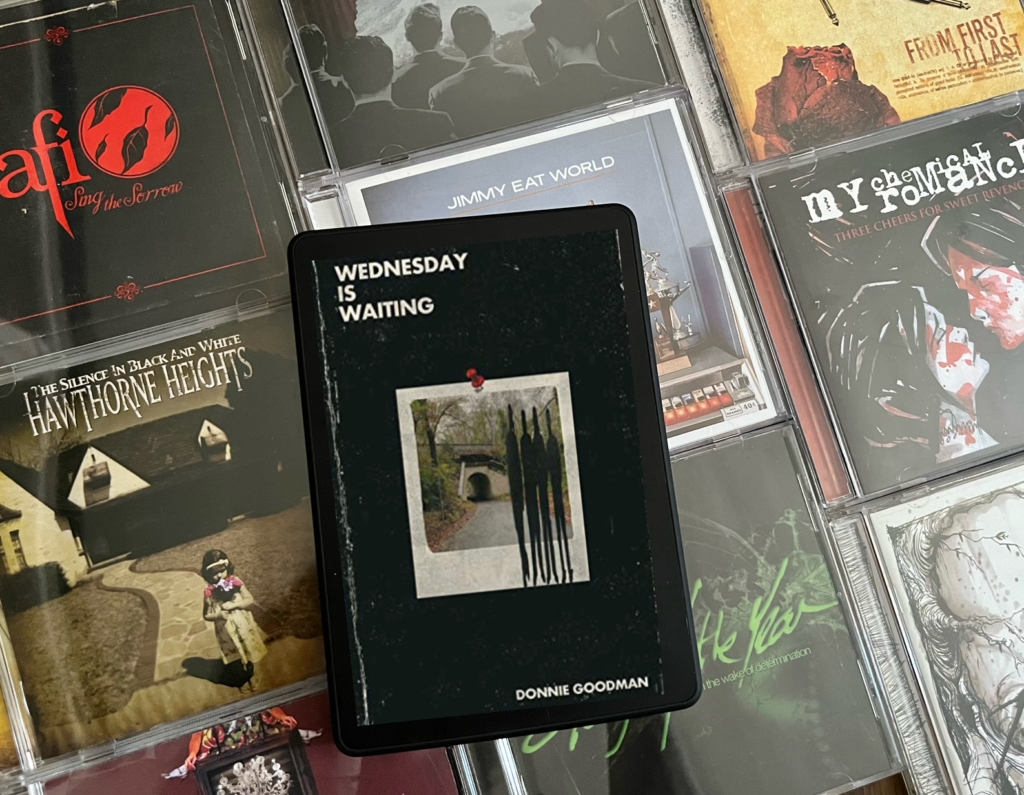 Wednesday is Waiting by Donnie Goodman is a tale of emo music, friendship, and the determination to transcend to another level, no matter what it takes!
Let's dive in!
My Thoughts on Wednesday is Waiting by Donnie Goodman
This up-and-coming Emo band just wants to make it big. Determined to continue their tour in order to get to New York to sign with a record company, they take up an assortment of gigs from all kinds of venues; dive bars, clubs, you name it. But one night, they get into an accident, which leaves them in a pickle. Their van is no longer fit to drive, and they have a gig the next day that they need to get to.
In what they think is perfect, albeit odd timing, they get a call from someone that had seen their CraigsList ad and asks them to do a private gig.
One thing leads to another, and this crew finds themselves wishing that they had never taken this man up on his offer… or do they?
I am obsessed with this story! First of all, an emo band from the 2000's?! Yes please! This brought back all the feelings of going to shows at small venues when I was in high school.
I was so excited to see them go from swiping food and playing out accidents to get free gas, to having crowds really dig their music! When the tension started to dial up beginning with a run in with the police, I immediately got nervous. The tension only got worse from there!
I loved that this story began with us following the band on their tour leading up to when things go sideways before dipping back into the past to find out why they ended up where they were.
AND THEN THAT ENDING! My goodness.
My Favorite Passages from Wednesday is Waiting
He turns to leave, and there is a loud cracking sound that erupts like a thunderclap from a space in the dark that is somehow close and far away at the exact same time. Allison feels Peter's grip around her hand loosen. He falls to his knees. Before his upper body follows the momentum of his fall into a thick layer of dead leaves on the ground, she sees that his face is no longer there. What is left is an exit wound from a large caliber bullet that hit the back of his head and exploded through the front of his skull. She can not see the blood splatter on her body due to the black dress she wears, but she knows it is there, along with the grey matter of an often anxious but lovable mind.
Malcolm cups a set of headphones against his ears at a listening station behind her. He is checking out the debut record from Paramore one week before it officially releases.
"Bro, you have to come to listen to this right now. This girl's voice is ridiculous," he says.
Safety is relative. It is a liquid that can evaporate just as quickly as morning dew clinging on to blades of grass, destined to disappear by the middle of the day. It is there one moment and gone in the next.
Most moments in life come and go like fleeting tides on a shoreline pounding pristine seashells into uniform dust — an infinite loop of erosion and decay.
My Final Thoughts on Wednesday is Waiting
A killer slow burn of a tale, this one will hit emo horror fans with a punch of nostalgia before delivering the knock-out blow with the terror.
I had an absolute blast reading this story, and I cannot wait for other horror fans to pick it up! Donnie is going to take you on a wicked journey here!
---
Thanks for reading!
And shout-out to Mother Horror for providing me with an ebook of this one!
---
Related Reading: