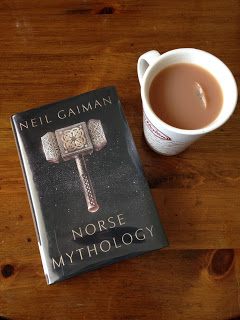 I've been interested in Norse Mythology for quite a while now. Of course the Marvel stories helped to really boost that interest when I started getting into the movies and comics! But I've also read a number of other works about these tales. So in this collection, many of the stories were familiar, but others were not.
Reading Neil Gaiman's renditions of these myths was such a treat! I would definitely recommend checking this out!
My Thoughts on Norse Mythology by Neil Gaiman
This book begins with an excellent section called "The Players" that helps introduce all of the characters to the readers. The rest of the book is a collection of short stories that each cover a different myth ranging from the creation of Aesir to the battle of Ragnarok. Some stories are intense, a few center on love and family, while others are focused on Loki's trickery and humor.
First of all, I need to discuss the cover! It's SO pretty and wonderfully simple. The title and author are written in a very simple golden font and are split by the main focus- a very decorative rendition of Mjölnir. Behind the hammer there is a celestial spattering, which I think is a lovely touch. Both Mjölnir and the text have elements of gold foil which makes them shine in the right lighting. I was so bummed that I couldn't get a better photo of it since my copy is from the library and has the plastic book jacket cover on it.
Now, I have to admit that I really didn't know anything about this book before diving in. So when I realized that it was a collection of short stories, I was just a little bummed simply because I'm not a huge fan of them. But the first half of the book totally hooked me! Like I said above, many of the stories were familiar from other books that I have read so I really enjoyed seeing them with a Neil Gaiman twist.
I really enjoyed the mix of drama, humor, and slight violence. I also really loved the tone that Neil Gaiman gave to each of the characters. And I will admit that I am totally biased; I LOVE Loki! So I enjoyed the stories where he played a role the most.
I also really enjoyed when Neil Gaiman added lines that broke the 4th wall a bit. For example, toward the end of the book, he threw in a line about tossing your leather scraps to help build a shoe for one of the gods.
Beware, the negatives:
As with all short story collections, I tend to lose steam… It doesn't help that I was in a major life slump while reading this book. I definitely want to give it a re-read sometime very soon because I don't think I gave it a fair shot.
My Favorite Passages from Norse Mythology
"Because," said Thor, "when something goes wrong, the first thing I always think is, it is Loki's fault. It saves a lot of time."
"Oh," said Thor. "She won't like that. Well, you can tell her the news. You're better at persuading people to do things than I am when I'm not holding my hammer."
Loki climbed out from under the table, in his original shape, and surveyed the carnage. "Well," he said, "you appear to have dealt with the problem."
My Final Thoughts on Norse Mythology
Overall, I would highly recommend giving this a read! My copy is due back at the library soon, but I am looking forward to picking up my own copy so I can give it another shot!
This book was a buddy-read with my friend Heather of Heather's Reading Hideaway. (Click here to read Heather's review of Norse Mythology!) We're hoping to do some more buddy reads very soon, so stay tuned to our blogs or social media accounts to see which book we choose to read together next!
---
Snag a copy through Bookshop to help support local indie bookshops: