The amazing Michael Clark was in my current town; Manchester, New Hampshire! From the minute he announced the event, I was counting down the days. I ended up spending over four hours out and about continuing the celebration for Hell on High!
Let's dive in!
An Evening with Michael Clark!
I just couldn't chill. I headed to the bookstore nice and early. As soon as I walked in, heading to the cafe at the back to grab a matcha latte, I saw George (A.K.A. Book Monster – @Sshh_ImReading on Twitter!) browsing the shelves. The two of us stood chatting and catching up until we saw Michael Clark walk in.
George jumped into action helping Mike grab bins from his car. The two of them told me I wasn't allowed to help while pregnant. 🙂
Mike's setup was wonderful! The King of Merch had a killer selection of things! If you bought any of his books, you could grab a T-shirt. And of course, the other goodies such as drink koozies, stickers, artwork, and book bags, were all up for grabs.
In all the bookish events I've been to, I've never seen an author do a display with this much stuff! I think it's so darn cool. And who doesn't love swag?!
I mean, check out this stuff!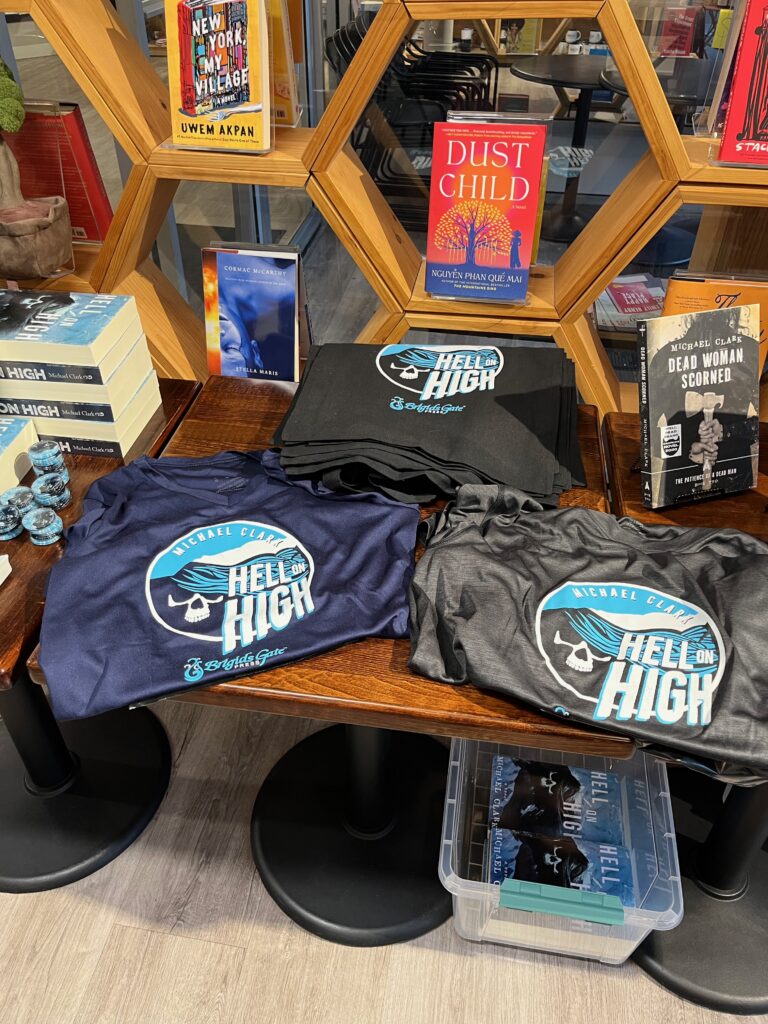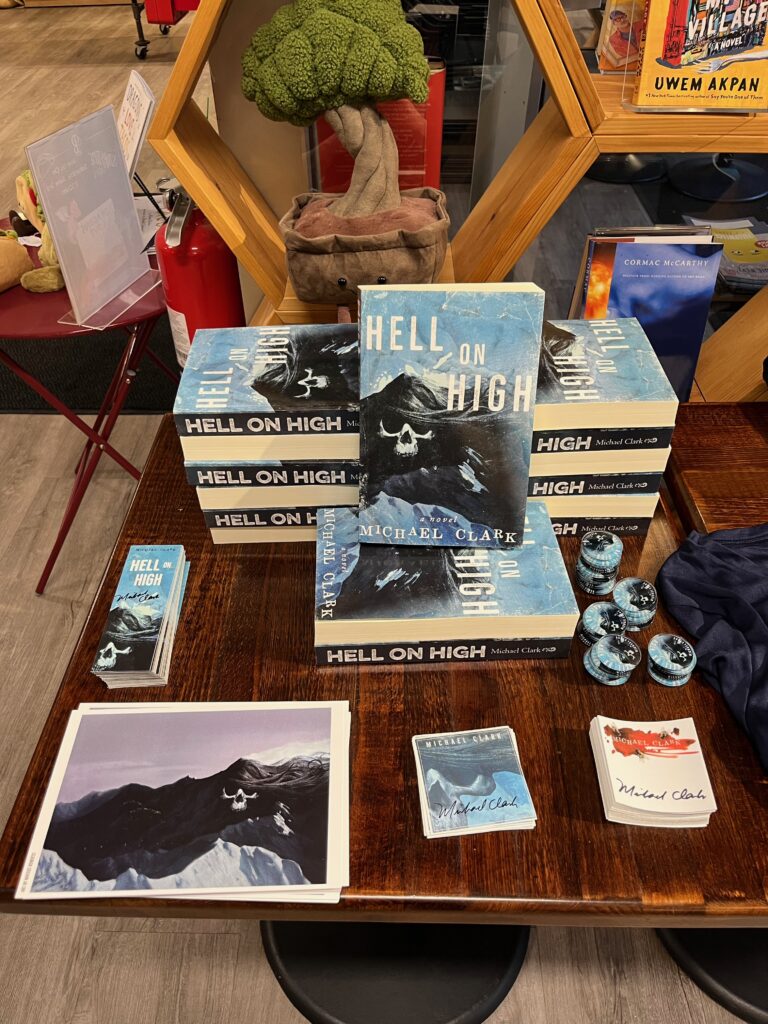 While we waited for the event to officially begin, Mike, George, and I got to sit and chat. This was an absolute blast! Then my friend Amber arrived and I got to introduce everyone.
During the event, Mike read first from The Patience of a Dead Man, then he read two selections from Hell On High. My goodness did these passages make me want to do some rereading!
Afterward, there was plenty of time for the book signing and photos! George and I had to get one as Mike's fan club, of course! When we posed for the photo and then said, "Wait! We should hold the book!" My friend Amber noted, "You're WEARING the book!" We're just too excited for Mike and his latest release!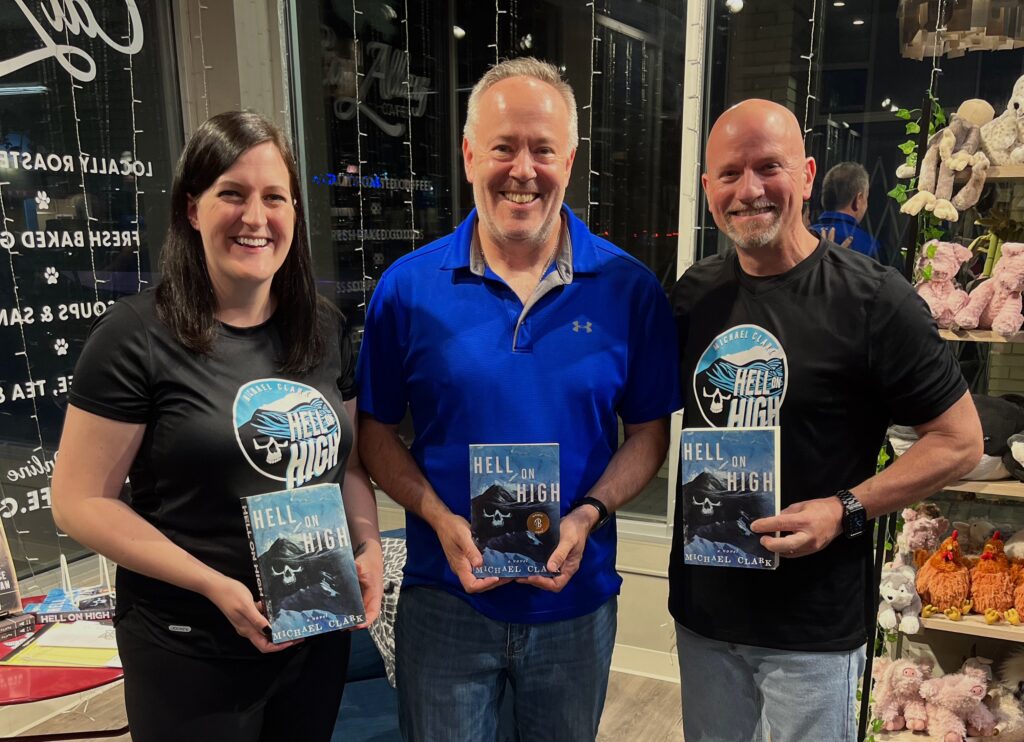 After the event, Mike, George, and I headed to Margaritas! I tried to pass on ordering anything, but Mike stated that as a pregnant woman, I need some fried pickles. He certainly wasn't wrong! The pickles were delicious!
Major shout out to these two for paying our bill and tip! Not only that, but they escorted me to my car afterward to make sure I made it okay.
What a blast! I already can't wait to see these two again soon! If you ever have the chance to go meet Mike at a signing event, make sure that you do! You're going to have so much fun!
So, what about the merch that I walked away with?
Well, I had to buy a book to support the event, of course! If you're reading this post and haven't yet snagged his latest book, Hell On High, but would love to read it… comment below! The first person to comment that they would like the book will get it! It's flat-signed as well! 🙂
The book purchase came with a t-shirt that I snagged for myself in a larger size than the one Mike sent me previously. I'm hoping this is one that I'll be able to wear for the second half of my pregnancy. I HATE maternity clothes and have been having such a hard time finding anything fun, so I'm going to be living in this over the summer!
As for the rest of the swag, I already had one of everything else that was up for grabs. But Mike surprised us by giving George and me special swag! Right after I hit publish on this post, I'm cracking that bad boy open!
(Apologies for the coloring of the photo below, our bedroom was pretty dark when I snapped this)
Thanks for reading!
If you're looking for some more reading, here are some links to check out: